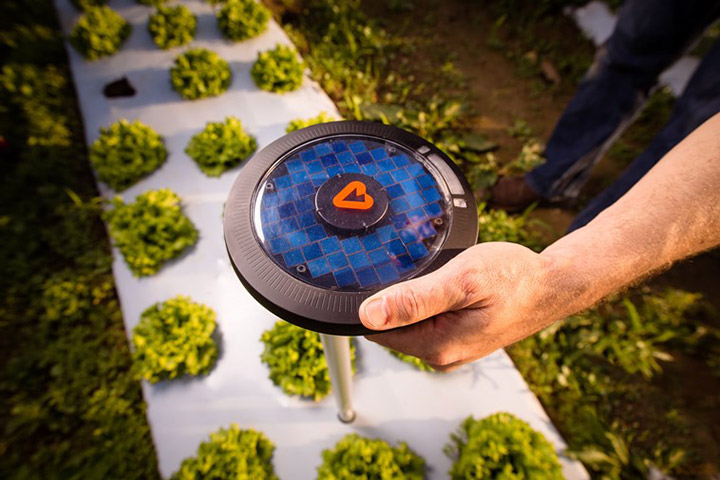 Answer the questions wrong and cripple a crop.
Guesswork and irrigation are long-time farming partners, but it can be a happy-in-hell marriage. When to turn on the spigot? How much water to deliver? Every farm soaks and dries in isolation because one field's irrigation recipe is another's death sentence.
Crop lookouts. AgSmarts is a one-stop, catch-all sensor network. Think sensor stations across an operation acting as field sentinels. Machines with onboard intelligence recognizing crop, growth stage, and soil profile. AgSmarts makes remote sensing stations, not sensors. Stations are set up for plug-and-play mode for the top sensors in the ag industry. Eleven sensors can be plugged in simultaneously and the stations are configured with AgSmarts' mobile app over Bluetooth (BLE). The stations' data is delivered by the hour to a free web portal. Multiple stations can be placed around an operation and the units communicate over a wireless mesh network. Simply, a producer pays for one cell modem and data plan for the network of stations.
"Farmers want to know when, how much and why," says Brett Norman, AgSmarts CEO. "That's what the station and data allow. Quickly log in and visually see what a crops needs. Alerts and emails also tell when the soil is drying down. There is a tremendous amount of money to be saved by cutting water and boosting yields."
Norman emphasizes four key AgSmarts benefits. Soil moisture at variant depths; ground-truthing rain gauge sensors; precise temperature data; and wind speed and direction readings.
Get vertical. AquaSpy drops a unique probe down 4' into the soil profile to relay moisture data to growers. The Indianapolis-based company provides a system and software to growers to reveal precisely how crops are utilizing moisture and nutrients. Essentially, AquaSpy lets crops do the talking. The 4' probe is lined with sensors every 4" to test for moisture, nutrients and temperature. The probe shoots real-time data to growers accessible by smartphone, tablet or laptop.
"Our user interface is simple and guides irrigation decision in minutes," says Steven Quindlen, vice-president of sales for AquaSpy. "Our 4' vertical measurements are crucial to show how hard a crop is working, especially when it's hot. Horizontal isn't the answer since the crop will try to access moisture for the full 48" profile of the probe and most other products don't go as deep."
Quindlen recommends one probe system per pivot. Probes are dropped in majority-soil type positions, typically representing 65% to 70% of a field. In 2014-2015, AquaSpy surveyed 400 user growers and found a range of 10% to 40% positive net yield change, according to Quindlen. "The average yield bump with our probe system was 10% to 18% as a result of getting moisture and nutrients into the crop at exactly the right time."
Packed in a pod. Pulsepod fits in the hand, weighs less than a pound, and measures a bevy of crop- and weather-related factors. The disc-shaped Pulsepod takes direct measurements at the plant level: biomass amount, water content, chlorophyll, leaf temperature and much more. Putting it all together allows growers and crop advisors to see everything at once.
With a mount on the base, Pulsepod can be attached to a pivot, pole, orchard tree, or any raised spot across an operation. It's designed to remain in the field 24-7, year after year, but takes only a minute to detach and move. Produced by Arable, Pulsepod takes continuous measurements and sends data to the cloud for simple grower access. Arable is also developing text message data retrieval for even simpler access.
The all-in-one, solar-powered device will be available for purchase by August-September of 2016. "Pulsepod takes more measurements of crops and weather than any device on the planet," says Adam Wolf, CEO of Arable. "We're also not prescriptive. We just empower growers to make decisions and put the information for them in one, easy place."
Crops raised with poor water choices pile on fuel costs and lose precious yield. However, AgSmarts, AquaSpy, and Pulsepod are providing management options to producers.