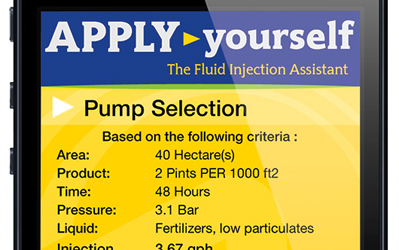 A free mobile app for Android and Apple devices aims to make it easier for farmers to apply chemicals using an injection pump.

Called "Apply Yourself", the app from Agri-Inject is pre-loaded with the manufacturer's range of injection pumps. Farmers input data such as field size, irrigation timing, type of injected liquid and rate to review a ranked list of pumps that fit the application. Photos and details about each pump are included.

Other app features include a function for simplifying pump calibration and a timer with visual and audio alerts.

Colorado-based Agri-Inject is among the world's largest suppliers of chemigation and fertigation systems.

Click here to fill out the form and download the "Apply Yourself" app.