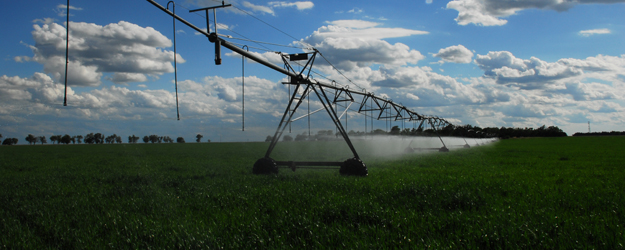 Automatic Pipe Sizing Arrives
Trimble adds automatic pipe sizing to its Farm Works Surface software, allowing farmers to boost accuracy and efficiency when creating drainage systems.

Other benefits of automatic pipe sizing can include efficient drainage, elimination of errors and manual calculation, and cost reduction by ensuring correct pipe sizes.

"This new feature can contribute to increased system efficiency due to optimal pipe sizes and can also help contractors provide a more accurate quote to their customers, while enabling them to know exactly how much material to purchase," says David Fitz-patrick, Water Solutions business area director of Trimble's Agriculture Division.

The new feature offers recommendations for the proper drainage pipe sizes for a complete system design, in addition to cost estimates for a given project. It also allows farmers or contractors to quickly produce optimal drainage designs for each project while reducing costs.
---
Corner Options Expand
Valley Irrigation adds three options to its VFlex Corner: electronic sprinkler sequencing, an additional corner length and an inverted corner.

Electronic sequencing offers more precise water application and better uniformity, continually measuring the corner angle and the rate of change to calculate the correct sprinkler sequencing for specific field requirements. "Electronic sequencing allows growers to further customize water application to field shape, field conditions and farming practices," says John Kastl, equipment product manager.

The VFlex also comes with a new 305' corner length allowing for irrigation of extra acreage in fields that aren't square.

Moving ahead of the center pivot, the inverted corner is sometimes a better fit on part-circle fields and allows farmers more options in field design.

"The Valley VFlex Corner is a great option for growers looking for simple controls, flexibility and lower cost," Kastl adds.
---
Unique Configuration Offers Drip Benefits
PolyNet is Netafim's high-performance, flexible and cost-effective piping solution for above- and below-ground drip irrigation systems.

Farmers can easily assemble, recoil and relocate the PolyNet drip irrigation system for use in an alternate field or different configurations. The flexible design offers precise water delivery, lower maintenance and labor costs and increased water savings. 

"PolyNet enables farmers to reap the benefits of a drip irrigation system in areas where flexibility is essential," explains Ze'ev Barylka, director of marketing for Netafim USA.

Available in a wide range of diameters, PolyNet's thermo-static collapsible irrigation pipe is constructed from polyethylene materials designed to be versatile enough to endure the weight of machinery as well as the toughest environmental conditions. PolyNet requires no specialized installation tools and is equipped with a connector kit and branching and lateral fittings, making it compatible with any Netafim on-surface or subsurface irrigation system.
---
User-Friendly Designs
Toro releases the latest upgrade to its AquaFlow drip irrigation design software, AquaFlow 4.0, increasing functionality and convenience. The updated program features expandable panels that auto-adjust to multiple screen or font sizes and allow instant viewing of design decisions by scrolling.

Navigating program features is easy using pull-down menus. The software reports lateral quantity per block; number of laterals per block; submain and mainline irrigation travel time; and submain velocity versus distance. 

"AquaFlow is used in more than 120 countries worldwide, so the new feature of allowing custom submain and mainline pipe sizes will be very popular in regions with nonstandard equipment," says Inge Bisconer, technical marketing and sales manager for Toro Micro-Irrigation.

Designs can be saved, exported and imported—as well as printed or saved to a PDF format.