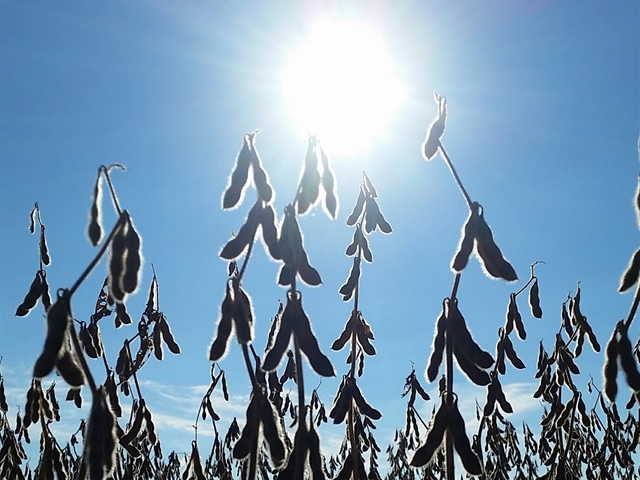 Record global supplies of grains are getting bigger, and U.S. soybeans plantings will reach a record in 2017-18, according to USDA and United Nation estimates.
And while some analysts predict the growing supply will tamp down commodity prices next year,  hurting farmers' earnings, others aren't so sure that it will.
U.S. farmers could plant a record 85.5 million acres of soybeans in 2017-18, 1.8 million acres more than in 2016-17, USDA forecasts in long-term projections published late last month. And for the next decade, soybean plantings won't fall below 85 million acres, it predicts.
Soybean production will slip 311 million bushels to 4.1 billion bushels in 2017-18, and will stay above 4 billion bushels for the next decade, USDA estimates. Future demand for soybeans is also projected to stay strong over the next decade, with exports staying above 2 billion bushels a year.
U.S. wheat plantings are estimated to decrease slightly, by 1.7 million acres to 48.5 million acres, in 2017-18, and hover at 49.5 million acres for a decade, according to USDA. Wheat production of 2.3 billion bushels is forecast for 2016-17, slipping to 1.9 billion bushels in 2017-18. Exports are forecast to stay at around 975 million bushels for the next five years, increasing to more than 1 billion bushels by the end of the decade.
Corn plantings will fall by 4.5 million acres to 90 million acres in 2017-18.  Production of 15.2 billion bushels in 2016-17 will slip to 14.06 billion bushels in 2017-18. Ending stocks will go down by 105 million bushels to 2.298 billion bushels and stay close to 2 billion bushels for the decade.
Other organizations, including the United Nations, are predicting an increase in global grain production. The U.N. Food and Agriculture Organization raised estimates for global wheat and corn production. Wheat production increased in 2016 by 2.6 million tons to 749 million tons. World corn production also went up by 2.9 million tons to 1.02 billion tons.
So what does this mean for American farmers? The growing global glut could hold down commodity prices, according to a recent report by Rabobank.
"U.S. farmers will face another challenging year in 2017," the bank reports, noting that margins may be too low to cover costs.
But other analysts aren't convinced the global grain glut will weigh so heavily on markets, because China holds most of the supply. China holds 44% of the world's wheat supply and much of the world's coarse grain supply, notes Dale Durchholz, senior market analyst for AgriVisor LLC, Bloomington, Ill.
"It is locked away from access to market in general. Look at the wheat supply-demand both outside of China and  the U.S. Actually, supply-demand is tighter than a year ago," he says. "We don't have a burdensome, bulging supply."