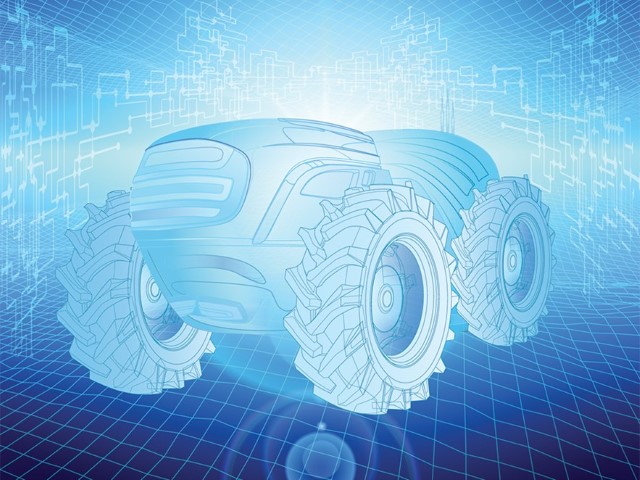 Nobody believed Eli Whitney. And then came the cotton gin. A single person plucked a pound of cotton lint free from seed in a day, and the gin pulled apart 50 lbs. When doubt and technological change face off in agriculture, time tells the winner.
Is farming ready for robot tractors? Advocates of autonomous agriculture say the day of driverless vehicles is nearing. There is no slow train coming; the arrival is imminent, expected with a few short years. Whether in the planting or harvest window, time lost is painful and can't be recovered. Could automation save time, create efficiency, and redeploy human labor? The concept of 24-7 operation in agriculture is no longer the realm of fantasy and the bare bones use-case scenario is beginning to unfold.
Historically, from mechanization to genetic modification, major changes in farming are met with long looks and a healthy dose of producer skepticism. Ultimately, no matter the potential or promise, acceptance of autonomous farming vehicles will be determined by performance in the field.
"Technological change brings a range of reaction. Early adopter or hardline doubter, that's normal human behavior. There's no commercial production yet, but it's coming," says Matt Nielsen, director of marketing at Automated Solutions, Inc. (ASI).
Starting as a spinoff company from Utah State University in 2000, ASI is at the vanguard of autonomous vehicle production, with roots in agriculture, but stretching to the mining, automotive, security and defense industries. Piggybacking on automation in the mining and automotive industry, driverless tractors are close to an on-the-shelf debut.
In August 2016, Case IH and New Holland, collaborating with ASI, released autonomous concept tractors: Conventional engine, transmission, chassis, and couplings, but with the driver removed from the cab. The cabless Case IH Magnum concept tractor is packed with robot technology targeted at multiple tasks.
"We're getting this ready to scale," says Leo Bose, Case IH's Advanced Farming Systems (AFS) marketing manager. "Whether a 140-hp tractor or a 620-hp tractor, the autonomous technology can go either way and extend to harvesters as well."
Bose says the Case IH Magnum concept tractor introduction has triggered a wave of producer reaction, from doubt to wonder.
"When farmers actually see this tractor perform in our video, they respond with all sorts of questions, because the savings in hours, fuel and efficiency are easy to see," he says.
Dan Halliday, Global PLM manager for New Holland, says flexibility is preserved for the producer with the NHDrive Concept Autonomous Tractor. Autonomous or manual cab control, the NHDrive Concept Autonomous Tractor provides producer options. The traditional inhibitors to production may be lack of sleep, darkness, or off-site duties, but Halliday says automation will change the entire dynamic of time and efficiency for farming.
"Fully automate a tractor and the operator can switch to another task out of the cab and wait on alerts as needed," he says. "We're talking about maximum production, the same rate as with any other automation."
Halliday offers a three year-plus time window until commercial production. Cost is a black box of grower dread, but Halliday says expenses will be tempered by the automobile industry's move toward driverless sensors and technology.
"Communications, bandwidth, and software. We're linking them all together and getting closer," he notes.
Nielsen says the possibilities for automation in agriculture are increasing with phenomenal speed, evidenced by savings in the mining and proving ground industry related to accuracy, efficiency and round-the-clock performance. Producers are waiting with a host of questions over cost, accessibility, and litigation, but the possibility of historical change and a reduction in farming pain points is enough to draw long looks from doubters and supporters. Essentially, the farming robot's moment of truth is approaching.
"It's difficult to describe how fast this is happening," Nielsen says. "We've already seen it in mining and automotive, and it's going to translate to agriculture."