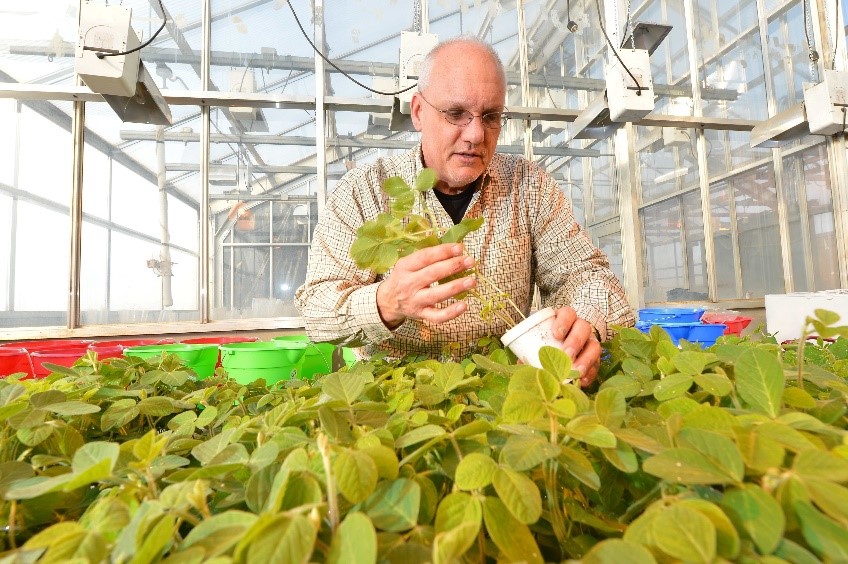 The SCN Coalition is back, and Dr. Greg Tylka, nematologist at Iowa State University, is spreading the word that traditional resistance from PI 88788, which has been bred into most soybean varieties, is losing its effectiveness.
"The problem is we've used the same resistance genes against soybean cyst nematode (SCN) for the last 20 years," he said. "Ninety-seven percent of the varieties have the same set of resistance genes, so now we find ourselves in the situation where the nematodes out there are resistant to or are becoming resistant to the resistance."
Thus, the soybean industry has come together to launch the new SCN Coalition, but despite their one-liner taglines, their core message is more complex.
"In the 1990s, it was simple – growers just needed to grow a resistant variety," Tylka said. "Now, I advise them to learn what source of resistance their varieties have, to grow varieties with the Peking source of resistance in rotation with varieties with PI 88788 resistance, to grow non-host crops and to consider using chemical or biological seed treatments. Another key activity is to monitor nematode egg counts through soil sampling to ensure they're keeping their numbers in check."
Tylka noted it's similar to taking medicine for high blood pressure. Twenty years ago, your doctor may have advised you to take one pill and you'd be fine. But now, your doctor would prescribe a pill and also tell you to reduce your sodium intake, start exercising, lose weight, avoid alcohol and maybe make some other lifestyle changes.
"It's the same with SCN, growers need to continue to use what we have, PI 88788 – but we need to rotate in Peking resistance," he said. "Plus, we must incorporate other tools like seed treatments to slow the decline of resistance because we no longer have a one-pill solution."
New Resistant Varieties on the Horizon?
Could another one-pill solution be out there?
"I hope seed companies will work to develop more varieties with the Peking type of resistance for growers to use," noted Tylka. "And I hope growers will start asking seed companies for more SCN- resistance options."
Increased efforts to bring new resistant SCN genes to market through traditional breeding are underway, according to Tylka. There are also efforts at universities and in private industry to try and make a plant "artificially" resistant to SCN through genetic engineering. However, details and timing are not available for this work due to intellectual property (patent) rules. Any genetically engineered SCN-resistant variety would likely come with a technology fee, which growers haven't had to pay for with traditional resistant varieties in the past.
Actively Manage SCN
Scout for SCN – there are two ways to determine if SCN is in your soil:
Dig roots (don't pull) and look for females starting about five to six weeks after planting until late July/early August.

Collect soil samples for testing – immediately after harvest is ideal, but soil samples can be collected anytime of the year. Avoid collecting when soil is frozen, snow covered or soaking wet. More information is available on how to sample and where to send your sample.
Rotate SCN-resistant soybean varieties – rotate Peking varieties with PI 88788 varieties to slow buildup of resistance to PI 88788.
Rotate non-host crops – when a non-host crop is grown, SCN egg numbers will fall because SCN eggs will hatch and starve due to a lack of food source.
Consider nematode-protectant seed treatment – biological and chemical seed treatment options are available that offer nematode protection. Review available field data and consider your options.
Visit TheSCNCoalition.com to learn more about how to manage SCN in your fields.