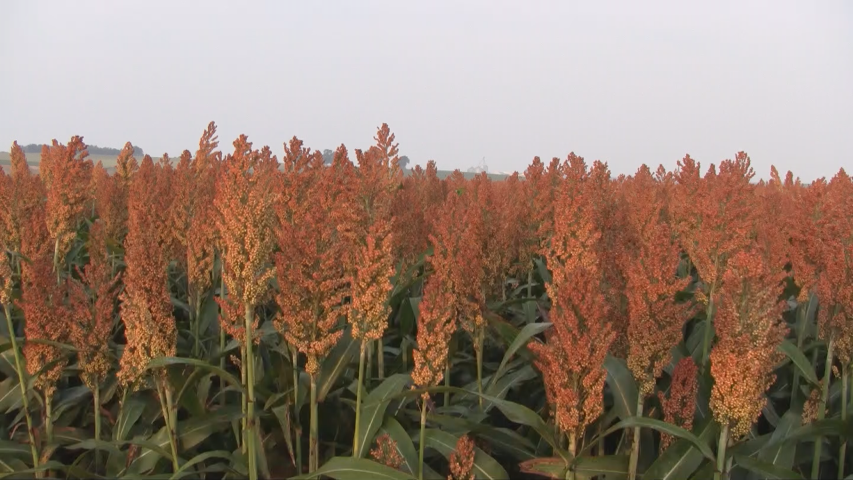 You're looking at what could be the new cash crop for farmers. One many already use in rotation, has now become a popular choice for farmers in the plains.
"It's all about exports to China," says Chip Flory, with Pro Farmer and Host of Market Rally. "That is the number 1 thing that's driving the sorghum demand right now."
 "It's all a Chinese driven market," says McPherson, Kansas farmer Adam Baldwin. "Even though the corn is going back into china, there's still some economics, and government policies in china that still make sorghum competitive and this real strong demand."
Chinese customers can't get enough of U.S. sorghum,  largely being used for feed.
"It's cheaper for Chinese feed makers to buy sorghum out of the U.S. move it into South China, than it is to get corn from North China to South China to make that feed," says Flory.
"Chinese end users want our grain sorghum, because it doesn't have the GMO issues going into China that corn does, it doesn't have the tariff constrictions that corn does, so end users want it rather than their $9 domestic corn," explains Arlan Suderman, with Water Street Solutions.
Also driving consumption: alcohol.
"This might sound a little weird, but Chinese make a liquor, a very popular liquor, out of sorghum, and the Chinese like to drink," says Flory.
Both cash and futures prices are strong now, thanks to all the demand.
"You know, we started out at harvest, some of the local elevators were about even with corn, we went up over 40 cents over corn, I said that's probably a good time to sell out, and right now we're $1 over corn," says Baldwin.
The future, however, hinges on that Chinese demand. Import quotas on corn are boosting sorghum sales. But some think those quotas could soon be placed on sorghum, as well.
"Our big fear is whether the government will find a way within WTO to block those imports," says Suderman. "Some government officials have indicated they are looking. So, that could happen and pull the rug out from under this market at anytime."
While it may depend largely on the details of those potential quotas, analysts know the very factor driving demand, may also weigh prices down. 
"The day that China does come up, if, in fact they do come up with a way to block grain sorghum imports, the sorghum market, particularly the new crop market, will absolutely fall apart," says Suderman. "Old crop supplies will be tight until harvest."
For now, however, strong demand is buying acres.
"It's a high risk for farmers, but right now with the strong basis, they are taking that risk and planting it," says Suderman.
"With the current price, you just have to (plant sorghum), there's no way around it," says Baldwin.
While there may not be enough incentive to swing acres in the Eastern CornBelt, other areas see sorghum as a field of opportunity.
"I think the shift is going to primarily be in the plains, with a little bit in the delta and Mid-South, we'll see some increase in sorghum," says Suderman. "That will take some out of corn. Overall, acreage will be strong."
"Especially in North Central Kansas corridor there, sorghum acres are going to go up," says Baldwin.
There's also a recent discovery that could revolutionize the crop, a technology on the horizon called Tri-seed.   The Sorghum Checkoff says researchers have found a way to double the number of seeds in the sorghum head. And they say that could bump up yields by 30 to 40 percent.
"Tri-seed is a technology that's coming down the pipe that we really think will be a game changer that I believe will push the sorghum line east," says Baldwin.
From veteran farmers to ones fresh in the business, watching sorghum demand continue on its rapid pace could create new beginnings for a crop long overlooked.
"To be able to see the upswing in sorghum after all the work the Sorghum Checkoff and Grains Council put into it, I'm just riding the wave," says Carlton Bridgeforth, farmer in Tanner, Alabama. "I'm lucky."