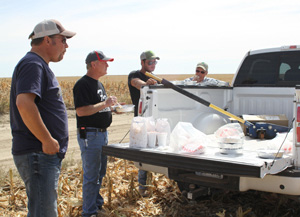 Look to margins for answers on expansion decisions in 2012
Lon Frahm knows what he's talking about when it comes to expansion. The 2009 Top Producer of the Year winner has added 25 quarter-sections, about 4,000 acres, in the past three years to his Colby, Kan., operation. Today he farms 20,000 acres. His expansion philosophy: "It's not about whether the crop price is high or low, it's about margin."

In Frahm's view, you need excess machinery, capital or labor for an expansion to make economic sense. When nearby land becomes available and he can economically swing it, he's in the market. Because the average quarter in his area comes up for sale only every 30 years, Frahm feels the year for potential expansion is irrelevant.

Determining whether expansion makes sense goes far beyond land and commodity cycles. Absolutely nothing will slow down expansion, in Frahm's opinion. "I keep finding economies of scale. I don't see anything to stop the growth of large farms," he says.

According to Dave Kohl, professor emeritus of ag economics at Virginia Tech, producers should have a working capital to revenue ratio of at least 25%. In today's volatile environment, 30% to even 35% is ideal before pulling the expansion trigger, he advises. "It's not an option but a requirement," Kohl adds. Maintaining a high level of working capital puts producers in a position to consider new opportunities, too.

Chief among the tough questions producers should ask themselves are whether an expansion leads to greater profits. Also apply the shock test, Kohl advises. Can you handle shocks of 20% lower prices and 15% higher costs?

Another question to consider is whether you have the right management systems in place. Does expanding stretch you outside your management ability, and if so, what will it take to handle it?
"Cheap money can be a trap," Kohl says. Low interest rates are not that low if producers have a hard time paying back the money or turning a profit.

For some producers, expansion might indeed make sense in the coming months. Several strong years' worth of profits and cheap interest rates makes expansion cost less, says Mike Boehlje, an ag economist at Purdue University.

That doesn't mean all producers should charge full speed ahead and expand this year, he cautions. "The biggest challenge is to think about how an expansion fits into the current operation."

In production agriculture, it's common to think of expansion in regard to more resources, more machinery, etc., Boehlje says. "In the business world, it's about revenue and sales. The emphasis is to get more revenue from the current resource base, not a focus exclusively on getting bigger," he explains.

Typically, the lowest-cost way to expand is to get better at what you're doing and reap more revenue out of your current resource base. Once you reach that point, you can concentrate on expanding.

"Now is not the time to leverage yourself up even if you can access credit," Boehlje says. "You have to worry about risk."
The Cost of Land. For grain farmers, justifying expansion comes down to one thing: "the cost of the land," says Gary Schnitkey, a Univer-sity of Illinois ag economist. When renting, it's important to have the ability to adjust the price of land if commodity prices drop. Landlords might be reluctant to reduce rents, however, he says. "It will take more than one year of poor prices to get things to come down."

Purchasing land has been a good investment in the past, but it's important to not make land
purchases by overextending on the debt side, he says.

"The way I look at rented land is that rent is a variable expense in the long term—it can go up and down—while land ownership [payments] is for the most part a fixed cost, although in a declining interest rate environment there are opportunities to roll the cost down," Schnitkey adds.
Money Tree. Cash flow is essential when in expansion mode, stresses Mark Winger, senior vice president of administration for Farm Credit of Western Kansas. "An operation can be very profitable but yet not be able to generate sufficient cash flow, often as a result of tax avoidance," he says.

"Margin hits the nail on the head," Winger adds. In the past few years, the farmers who made
a profit in spite of the wide swings in commodity and input prices are those who understand costs and lock in profits, rather than those who just produce a crop and hope the market will allow them to cover costs, he explains. "In the short run, the 'grow, then sell' strategy can work great if commodity prices increase after the cost of production is locked in, but sometimes it will go the other way, Winger says.
Price Outlook. In terms of budgeting, Schnitkey believes an average price of $4.50 for corn and $10.50 for soybeans is likely for the next five years, although prices will probably be higher than that this year.

It's possible, however, that in an individual year, corn prices could be as low as $3 to $3.50, Schnitkey cautions. That said, "2012 is a fine time to expand if farmers can get a land base at a reasonable price."

In the Midwest, a good share of expansion is being paid for with cash-flow money. "Land priced as $10,000 per acre won't cash-flow unless you put $5,000 down," Schnitkey says.