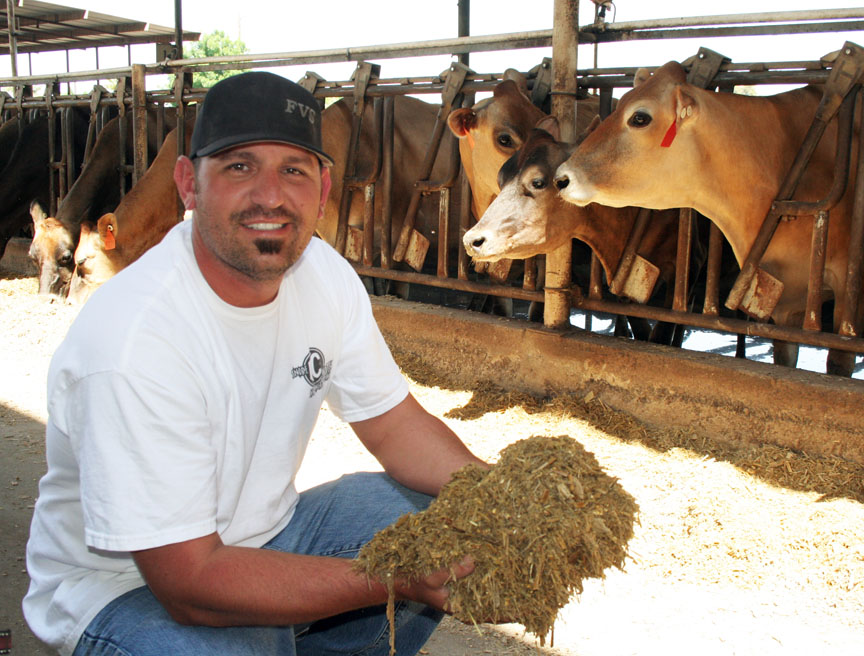 There's growing buzz—and scrutiny—about this new corn silage harvesting technology.
California dairy producer Darren Dias is so enthusiastic about the Shredlage harvesting process, he plans to use it to harvest 100% of his corn silage this fall.

His custom harvester, Dias & Fragoso, Inc. (no relation), will handle the job for him, but its manager, Jared Fragoso, remains neutral about Shredlage after his first-time experience with it last year.

Luciana Jonkman, a nutrition and management consultant with Progressive Dairy Solutions Inc., believes dairy producers should understand the research, "not just the sales flyer," and study their existing silage processes before considering an investment in the new harvesting technology. [See sidebar]

Their diverse opinions about Shredlage point to the need for dairy producers and nutritionists to do their homework before switching from conventional silage harvesting equipment.
Shredlage is a processing system that uses a special piece of equipment fitted to a conventional chopper. During harvest, the unit crushes the corn kernel while ripping the corn stalk lengthwise into planks and strings of 26 mm to 30 mm long.
---
Bonus Content
Web Resources
---
That potentially creates silage with more physically effective fiber and highly processed kernels. The result, when fed to dairy cows, can be greater digestibility. According to Shredlage promoters, that allows dairies to reduce or even eliminate straw, hay or haylage from herd rations while possibly boosting milk production.

Darren Dias, his brother Greg and their father Butch milk 2,000 Jersey cows at two adjoining dairies near Hanford, Calif. On their Delta View Farms' 750 acres, they raise 100% of their forages for the dairy. They haven't fed alfalfa hay since 2008.

Last year, for the first time, they harvested their entire conventional corn silage crop using a Shredlage processor. The Diases had lost some rented farm ground to nut-tree plantings and needed to find a way to expand their forage production.

Their nutritionist, Jed Asmus, encouraged them to take a look at Shredlage. The Dias brothers, Asmus and a group of other dairy producers traveled to Wisconsin to see first-hand how two dairies there were using it. "Once I saw how they did it, and looked at their rations, I was ready to try it," Darren says.

The Diases convinced their custom harvester to make the investment in the Shredlage equipment. Fragoso and his father, Bud, purchased two Shredlage units at $30,000 each. Of the 50-plus dairies that use Fragoso's custom harvesting business, only the Dias dairy used the Shredlage process.

During their first Shredlage harvest last September, the Dias family bagged 2,000 tons from part of their 500 corn silage acres. "We wanted to make sure it worked like we had seen back East," Darren says. "The rest of the 500 acres we harvested went into a pile." They paid Fragoso an extra $2 per ton to harvest their corn silage with the Shredlage equipment.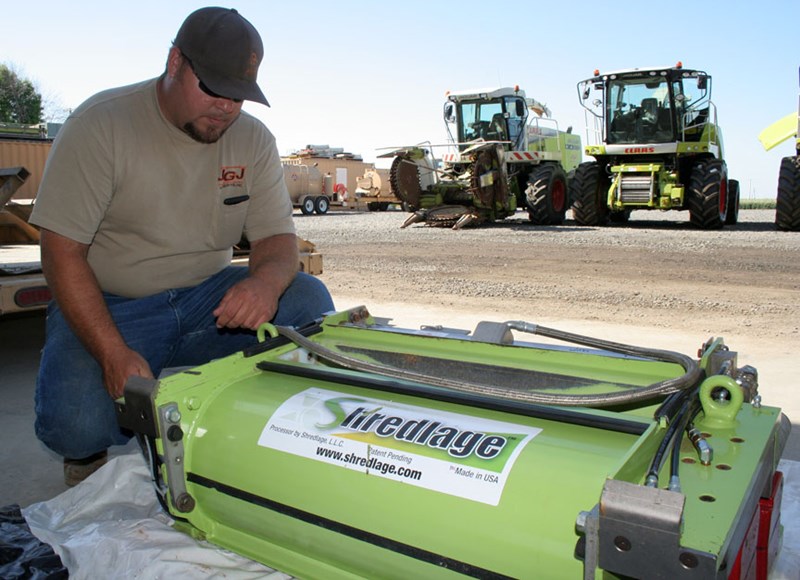 Custom harvester and dairy producer Jared Fragoso bought two Shredlage units for last September's corn silage harvest. "We haven't decided if we'll do Shredlage again for our farm," he says.
Fragoso also operates a 500-cow dairy a few miles south of the Diases' dairies. Last year, he harvested his own corn silage with the Shredlage equipment before he took on the Dias job.

"We made mistakes on ours," he says. "We haven't decided if we'll do Shredlage again for our farm."

One misstep Fragoso made on his crop was bagging the Shredlage silage at overly dry levels of 64% to 65% moisture, rather than a more suitable 68% to 70% moisture. "Cows started off feeding OK, but then they got to the dry part and started sorting," Fragoso says. "We saw big swings in milk production before we figured that out."

Dairy nutritionist Rick Lundquist saw a similar result last fall when he worked with Wisconsin clients using Shredlage processing. 

"Earlier potential advantages for Shredlage were that you could harvest a more mature or drier crop, so more starch was deposited in the kernels," Lundquist says. "Experience has shown that harvesting drier only leads to sorting of long particles.

"We will harvest at the same dry matter as regular kernel-processed silage next year," he adds. "Dry Shredlage did not feed well, and we lost milk. I recommend no more than 35% to 36% dry matter and no more than 25 mm to 27 mm chop length."

Another mistake Fragoso made was to transition his herd too quickly to a Shredlage diet. "We did it in two or three days, and should have done it over two to three weeks," he says.
The switch to Shredlage silage "is a big change," Darren Dias admits. "Corn silage is an important part of our ration, and we don't want a pile of something that's not good."

But the Diases liked what they saw post-harvest. With Shredlage in their rations, cow health and butterfat components improved. Milk production increased by at least 2 lb. per cow. Darren acknowledges that the improvements also followed the dairy's transition to a new rotary parlor, just installed earlier this year. He's still trying to compare before-and-after-rotary numbers, but he knows the rotary milker has allowed the dairy to boost its milkings to two times per day from 1.7.

Even as he waits to see how his milk production numbers roll out, Darren sees feed-related benefits from the Shredlage. "We're getting more out of the corn plant and buying fewer commodities," he says. "We're saving two loads of rolled corn, or $11,000, every month by feeding Shredlage corn silage. And that's just rolled corn. You could eliminate alfalfa hay and that could amount to a very conservative cost saving of $300 a ton, or $7,000 per truckload each week."

For Fragoso, it's too early to tell if Shredlage processing is the way to go in the future. "We don't promote or encourage it; we provide the services our customers ask for," he says. "We need more experience and facts. Each dairy is so different. You need to factor how Shredlage would work in your own operation and go from there." 
First, Know Your Silage Processing Score
Luciana Jonkman wants to build awareness among corn silage harvesters, dairy producers and nutritionists about their processing quality.

"Ninety-eight percent of corn silage harvesters and dairies don't know what their crop's score is or whether they have achieved optimal processing," says Jonkman, a nutrition and management consultant with Progressive Dairy Solutions Inc., based in Merced, Calif.

The "optimal" corn silage processing score is 70 or greater. An "adequate" score is 51 to 69 and "inadequate" is 50 or below.

Jonkman believes that a systematic approach of identifying every point of interaction of machinery and people, and every possibility of inaccuracy or error, is a more economical way of improving harvest processing quality.

"My contention is, 'Let's do it right without spending resources on buying an apparatus to cover up what is not being done correctly today,'" she says. "We should identify where the management needs to be for harvest rather than seek a silver bullet to fix everything."

A 2011 University of Wisconsin study that looked at Shredlage "compared apples to oranges," says Jonkman, who also runs a small custom harvesting business with her husband, Wiebren. The study compared the new Shredlage equipment to older machinery, with roll spacing and cut lengths set at different numbers—not a true comparison, she says. Moreover, the number of fermented samples used in the study wasn't reported.

Jonkman was involved in a corn silage processing study last year that looked at 204 conventionally harvested fresh samples.

"Taking that knowledge, I feel extremely confident that conventionally harvested silage can produce an optimal harvest score and at the same time achieve horizontal slicing and tearing of the stalk portion to achieve greater surface area and improved digestibility," she says.

"If you're not achieving what you want to achieve with your corn silage, get your team together to figure out how you can change it," Jonkman adds. "There will be people who need additional management tools to get them closer to fixing their harvest quality, but for the vast majority, first they need to identify where they are, what they expect and what adjustments with current people and machinery they can make to meet or exceed the goals set by all those involved in the harvest."