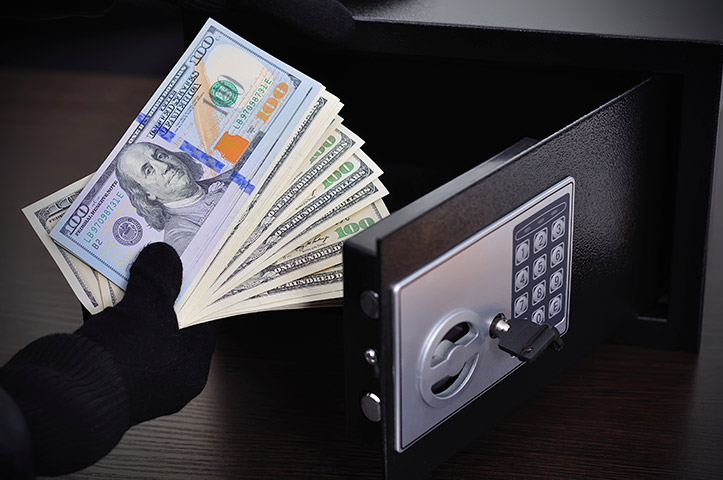 Here's how to protect yourself
You may not believe that a trusted employee would ever embezzle from your dairy. But the likelihood it will happen is high.

Guarding against fraud is an owner's responsibility—and it starts with understanding and controlling the opportunities for financial theft by an employee or even a family member.

"Less than 50% of embezzlement cases are ever reported," says Mark Brady, a CPA and partner with the accounting firm of Cooper Norman in Twin Falls, Idaho.

Many businesses fail to report embezzlement because they don't want to deal with the publicity or the cost of litigation. "Another reason is they want it to be over and done with because they know they'll never collect" from the perpetrator, he adds.

Brady describes embezzlement as "fraudulent conversion," a term that "simply means the person willfully and without claim of right or mistake converted the property to his or her own use."

In a survey of 2,000 employees by LogRhythm, 23% admitted to having accessed or taken confidential data from their workplace, and one in 10 do it regularly, Brady reports. Most accessed confidential data about their
colleagues' salaries and bonuses. Of those who have accessed confidential information, 94% have never been caught.
Employees who engage in embezzlement are often driven by incentives or pressures. These can include excessive spending to keep up an appearance of wealth or by other outside financial strains. They may be involved in illicit romantic relationships or have addictions to alcohol, drugs or gambling.

Embezzlers can be anyone—old and new employees, owners, managers, people with and without criminal backgrounds. Nearly 63% of all embezzlers are women, but the dollar amount of cases with male embezzlers is nearly double those of females, Brady says. The average age when embezzlement starts is 42.

Embezzlement occurs because there is an opportunity. "Your business may have a lack of internal controls," Brady says. "Your office may provide sufficient access to assets and information that allows an employee to believe fraud can be committed and successfully concealed."

When caught, embezzlers often rationalize their crime by saying they were only "borrowing" the money temporarily, or they were justified: "I was being underpaid and took what was mine."

They may explain their fraud by depersonalizing the victim: "I wasn't stealing from the boss, just the company." They may attempt to downplay the financial theft by saying, "We'll make it up next quarter."
Brady offers a list of signs an employee—or even a family member—might be embezzling:
Your company is generating the same amount of revenues but is suddenly making less profit.
It's hard to locate reports for specific days.
An employee takes too many days off.
Conversations get hushed when you enter a room.
Inventory counts get harder to tally.
An employee's lifestyle does not make sense. For example, a modestly paid employee may start driving a very expensive vehicle.
You notice frequent and significant transactions that are difficult to audit.
An employee places undue emphasis on earning projections.
Your accounting department is too lean.
You have a decentralized organization with inadequate monitoring.
As the owner, you should sign all checks, including payroll, he adds. You also should require employees who work in high risk areas take vacation. Brady cites the case of Rita Crundwell, who embezzled $54 million in city funds over more than two decades in her role as city treasurer for Dixon, Ill. Crundwell never took time off until her employer insisted. It was during her vacation that another employee discovered her embezzlement.

"You should insist that good audit trails be created for all transactions," Brady says. "Allow employees only limited access to accounting records and personal information." 

(Click image for larger view)
So how can you minimize the embezzlement risk? Brady offers these control measures:
Conduct surprise audits.
Don't over-rely on external audits. On average, 23% of fraud cases are detected by internal audits; only 11% are uncovered by external audits.
Educate employees about the risk-prevention measures your office has in place.
Reduce situational pressures that encourage financial statement fraud.
Set clear standards.
Check employee references.
Secure your organization.
Safeguard your payroll.
Control who reviews sensitive documents.
Perform independent reviews.
Conduct surprise inspections.
Perform additional audits.
Require back-up documentation.
Never pre-sign checks.
Make sure financial duties are segregated. For example, the same person should not make and record deposits as well as record the dispersal of checks.
Make sure you have audits and board-level oversight.
Encourage whistleblowers.
Implement automated controls.
Implement hotlines to receive tips from both internal and external sources. "Reporting mechanisms should allow anonymity and confidentiality, and encourage employees to report suspicious activity without fear of reprisal," Brady says.
Contact Mark Brady at (208) 733-6581 or visit www.coopernorman.com.