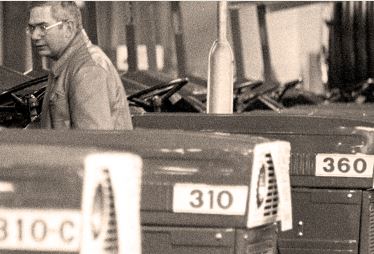 Wednesday, the 50th annual National Farm Machinery Show kicks off in earnest in Louisville, Ky. Follow along with AgWeb's discoveries the rest of the week, from palm-sized tech solutions to 10-ton tractors and everything in between. Your ticket to online NFMS coverage starts here.
The show began in 1963 as an electricity demo and exhibit in Lexington, Ky., but quickly gained momentum and found itself needing more space. In 1966, the show came to the then-called Kentucky Fair and Exposition Center as the newly named NFMS. A ribbon-cutting ceremony will kick off this year's proceedings honoring the show's 50th anniversary.
Today, NFMS is recognized as the largest indoor farm show in the U.S. The eight interconnected exhibit halls total more than 1.2 million square feet of indoor exhibit space, occupied by more than 850 agricultural displays. Last year's attendance topped 294,000 visitors.
Rick Rippetoe, president and CEO of the Kentucky State Fair Board, says he expects this year's attendance could very well top 300,000.
"This is a celebration year," he says. "Anything that lasts 50 years is iconic."
In 1966, farming was a piece of America that was held up and honored. Rippetoe says shows like the NFMS are modern opportunities to show farming is still important.
"The relevance is in providing the products and the showcase for new farm technology, as well as an opportunity to network and talk about issues today and for the future."
Farm Journal experts will provide a few of these opportunities, including economist Bob Utterback on the direction of the commodity markets. Visit with a familiar face in the machinery world, used equipment values expert Machinery Pete. He will present a seminar on the latest trends in used equipment values. The show also features a live taping of "U.S. Farm Report" Marketing Roundtable, hosted by Tyne Morgan and featuring three marketing panelists: Matt Bennett, market analyst with Bennett Consulting; Mike North, market analyst with Commodity Risk Management Group; and Utterback. All three events will be held in the South Wing B conference center, room 105. 
The show runs Feb. 11-14. Visit http://www.agweb.com/national-farm-machinery-show/ for continuing coverage on AgWeb, or follow along in real-time on Twitter by following hashtag #NFMS15.