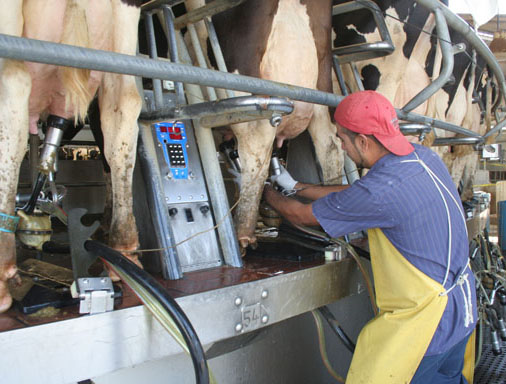 USDA also releases 2014 totals, showing which states led in milk production, per-cow output and more.
U.S. milk production continued on an upswing last month, following a 10-year trend of increasing milk output nationwide.
Milk production in the 23 major milk-producing states during January totaled 16.5 billion pounds, up 2.1% from January 2014, USDA said today in its monthly milk production report. 
Michigan led with the largest percentage increase, jumping 9.6% in milk output over January 2014.  Though still a comparatively small milk producer, South Dakota showed the second-highest percentage increase at 8.7% above January 2014. Utah jumped by 6.9%, while Colorado and Indiana rose 6.2% over year-earlier levels.
California showed a second month of milk production declines, contracting 2.6% from January 2014.
USDA revised December's production to 16.3 billion pounds, an increase of 3.4% from December 2013.
Per-cow production averaged 1,918 lb. for January, 17 lb. above January 2014. This is the highest production per cow for the month of January since the 23-state series began in 2003, USDA noted.
The number of milk cows on farms in the 23 major states totaled 8.62 million head, 103,000 head more than January 2014, and 8,000 head more than December 2014.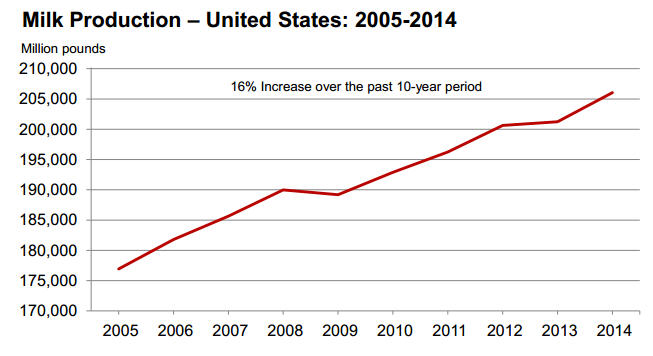 USDA also released 2014's totals, showing U.S. milk production last year reached 206 billion pounds, 2.4% above 2013. In 2005, U.S. dairies were producing nearly 177 billion pounds of milk – or some 16% less than now.
The top 10 milk producers in 2014 were:
California – 42.337 billion pounds  
Wisconsin - 27.795 billion pounds
Idaho - 13.873 billion pounds
New York - 13.733 pounds,
Pennsylvania – 10.683 billion pounds
Texas – 10.310 billion pounds
Michigan – 9.609 billion pounds
Minnesota – 9.127 billion pounds
New Mexico – 8.105 billion pounds
Washington – 6.584 billion pounds
Production per cow in the United States averaged 22,258 lb. for 2014, an increase of 442 lb. above 2013. The average annual rate of milk production per cow has increased 13.9% from 2005, USDA reported.  Leading in per-cow milk production last year, on an annual average basis, were:
New Mexico – 24,944 lb.
Colorado – 24,292 lb.
Michigan – 24,116 lb.
Washington – 23,820 lb.
Arizona - 23,626 lb.
The average number of milk cows on farms in the United States during 2014 rose slightly to 9.26 million head, up 0.4% from 2013.
Today's report showed there were 45,344 licensed dairy herds in the U.S. in 2014, down from 46,975 in 2013. Wisconsin led with the greatest number of licensed herds at 10,290; followed by Pennsylvania with 7,370; New York with 4,950; and Minnesota with 3,605. Despite being the nation's No. 1 milk producer, California counted only 1,485 herds last year, a drop of 50 herds from 2013.
The Golden State led the nation with the number of milk cows, averaging 1.78 million in 2014. Wisconsin followed with 1.271 million milk cows.