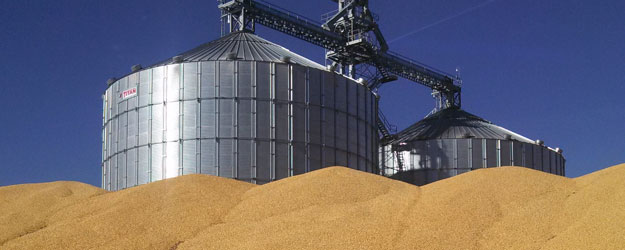 Marubeni Corp., the biggest Japanese trader of agricultural commodities, posted a record quarterly profit on rising grain sales and dividends from investments in electricity utilities.
The $2.7 billion acquisition of U.S. grain collection and storage firm Gavilon Holdings LLC accounted for 1.5 billion yen ($15 million) of Marubeni's 69.1 billion yen net income for the three months ended June 30, an increase of 8 percent on a year earlier. Total trading volumes jumped 18 percent mainly due to grain sales, Marubeni said today in a statement.
"We're off to a good start, although risks remain," said Chief Financial Officer Yukihiko Matsumura in a briefing in Tokyo today. The quarterly profit represented 31 percent of the company's annual target of 220 billion yen.
Rising incomes and changes in dietary habit in China, the world's largest importer of soybeans, are buoying demand for grains, which are also used for animal feed. Marubeni, the biggest seller of soybeans in China, expects global grain sales of as much as 33 million metric tons this year, compared with 30 million tons last year, Matsumura said.
The trading company's profit from overseas investments in power plants grew by 5.6 billion yen to 13.8 billion yen in the quarter, offsetting declines in earnings from copper and coal businesses, Marubeni said in the statement. Higher margins from petrochemical sales and rising income from aircraft-leasing assets also boosted profit, the company said.
Marubeni's spending on developing the Roy Hill iron ore project in Australian and a power project in Oman meant the company had negative cash flow of 215.3 billion yen in the last quarter.