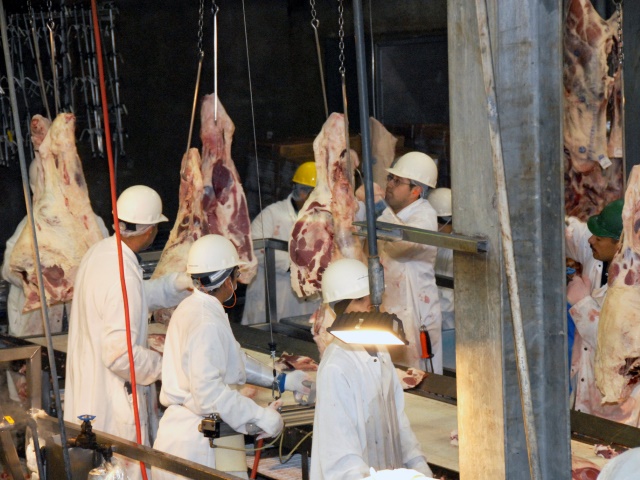 As JBS SA explained to investors Thursday a plan to restructure the world's biggest beef producer, it announced another milestone: the end of the Brazilian company's enormous currency-hedging program.
JBS earned an estimated 10.6 billion reais ($3 billion) last year from betting against the real, more than profits from its beef, poultry and pork businesses combined. The currency slumped 33 percent against the dollar in 2015 on the deepening recession in Brazil, the prospect of rising U.S. interest rates and falling commodity prices. JBS said the strategy protected its foreign debt from becoming bloated when measured in local-currency terms.
But by the start of this year, those hedges were losing money as commodity prices began to recover as the Chinese economy stabilized and political change in Brazil signaled the worst may soon be over for South America's largest economy.
"The picture has dramatically changed," Wesley Batista, the chief executive officer of JBS and scion of the family that controls the company, said Thursday on a conference call. "Now we may see the real in a strengthening trajectory."
The derivatives position rose by 50 percent to a value of $12 billion last year. It was reduced by $2.5 billion in the first quarter and there have been further reductions since then, according to Batista. The company lost 5.8 billion reais on its foreign-exchange hedges in January through March, contributing to a record net loss of 2.74 billion reais.
The stock fell 4.2 percent to 10.10 reais as of 11:12 a.m. in Sao Paulo on Friday after surging 21 percent, the most since 2008, in the previous day. The real fell 0.3 percent to 3.5081 per U.S. dollar.
In the future, JBS may need to worry less about swings in the real. Its restructuring will see the creation of a new entity called JBS Foods International that holds most of JBS's assets. Subject to investor approval, the new company's shares will be traded in New York, where it can access cheaper capital.
S&P Global Ratings said late Thursday it cut its outlook for JBS's credit rating to negative from stable following the earnings report.