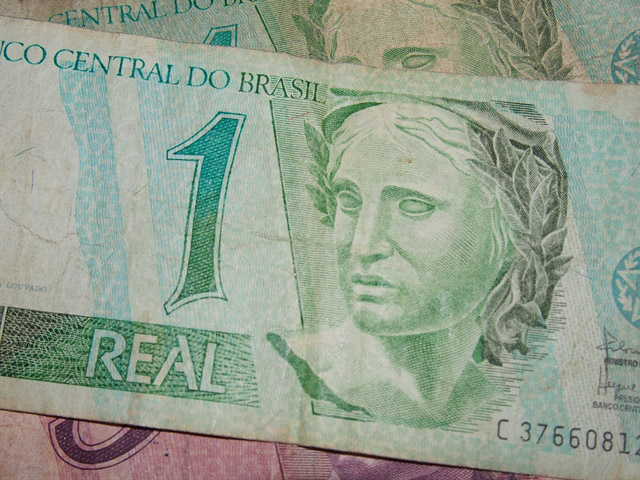 JBS SA, the world's largest meat producer, posted an unexpected fourth-quarter net loss after the Brazilian company took a 1.34 billion-reais ($358 million) expense related to currency hedges.
The net loss was 275.1 million reais, compared with net income of 618.8 million reais a year earlier, the Sao Paulo-based company said in a statement late Wednesday. The average of nine analysts' estimates compiled by Bloomberg was for a profit of 135.6 million reais.
JBS said it had a 1.34 billion-reais loss on its hedging of foreign exchange. Its strategy had helped it post a record 3.44 billion-reais net income in the third quarter. JBS has said that its currency bets simply protect against declines in the real that can bloat the size of its foreign debt when measured in local-currency terms. 
Brazil's real lost almost one-third of its value last year, the most among major currencies tracked by Bloomberg. More than 80 percent of JBS's sales are in dollars and include revenue from Pilgrim's Pride Corp., the U.S. poultry company it controls.
Fourth-quarter revenue climbed 37 percent to a record 47.2 billion reais, boosted by increased volumes as well as currency depreciation. Still, that missed the 48.7 billion-reais average estimate.
Adjusted net income at Pilgrim's, the second-biggest chicken processor in the U.S., missed analysts' estimates after falling 62 percent in the period on weaker chicken prices, the unit reported on Feb. 10.
JBS's U.S. beef unit posted a loss for the quarter following the strengthening of the dollar and reduced cattle availability. The company's two biggest units by revenue -- its foods segment and the Mercosul beef business -- both saw higher earnings before interest, taxes, depreciation and amortization due to cost cuts.