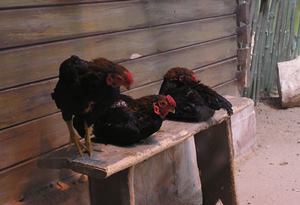 JBS SA, the world's biggest meat producer, posted an unexpected 25 percent profit slump after currency-hedging costs partly erased gains from its poultry and beef businesses.
Net income fell to 254.3 million reais ($112 million) from 338.5 million reais a year earlier, the Sao Paulo-based company said in a statement late yesterday. That trailed the 431 million-real average of three forecasts compiled by Bloomberg for profit excluding one-time items. Earnings before interest, taxes, depreciation, and amortization at 8.4 percent of sales was the best ratio for a second quarter since 2007, data compiled by Bloomberg show.
While JBS benefited from declining prices for corn and soybeans used to feed chickens in the U.S. and Brazil, as well as rising demand for beef exports from its South American units, the cost of protecting revenue against currency swings led financial losses to rise 65 percent from a year earlier to 1.09 billion reais in the quarter, JBS said.
Pilgrim's Pride, the Colorado, Greeley-based poultry and processed-food company controlled by JBS, last month reported a 28 percent jump in Ebitda to a record $338.6 million in the quarter.
"Good international demand and low grain prices worldwide benefited" JBS, Votorantim Corretora equity analysts Leonardo Alves and Tiago Costa wrote in an Aug. 5 note. The "turnarounds are impressive" at Pilgrims' Pride and Seara, another of the several meat producers that JBS bought in recent years, they said.
U.S. Beef
That helped offset a 33 percent Ebitda drop in JBS's U.S. beef business as a cattle shortage pushes up prices for livestock that the company buys to process at its slaughterhouses.
JBS Foods, the poultry and processed-food unit that JBS plans to list in Sao Paulo, reported Ebitda of 440.4 million reais, up from 379.8 million reais in the first quarter. The unit was formed after JBS agreed to buy the Seara food- processing assets from Marfrig Global Foods SA for 5.85 billion reais in June 2013.