Take a look at the July corn contract. After dropping steadily since the beginning of the year (and much more sharply since March), prices have leveled out. Are prices find a bottom? Or a ledge?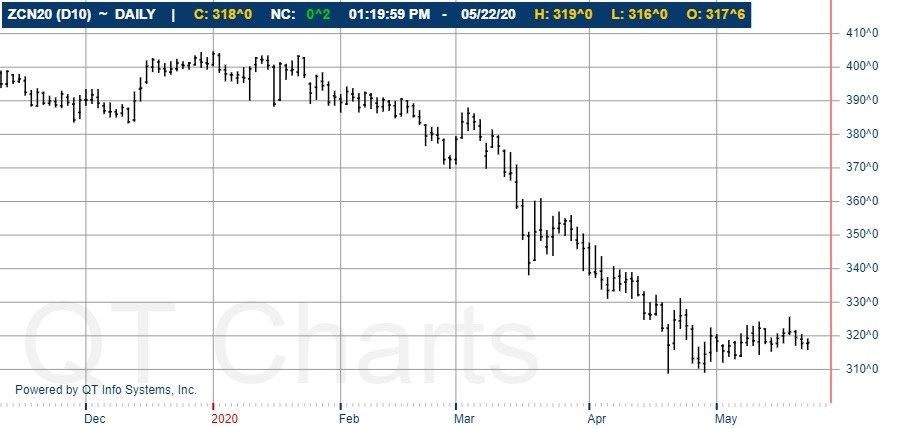 "If it was a bottom, you'd think there'd be ample people out there just jumping at the chance to buy," says Jerry Gulke, president of the Gulke Group. "But we haven't seen much of that. In the last 10 or so trading days, we haven't gained much, maybe a dime at most."
Gulke says this makes him think the market is just buying time.
July corn prices were down 1¢ for the week ending May 22. July soybean prices were down 4.5¢ and Chicago July wheat prices were up 8.75¢.
"It seems like a tale of two different stories," Gulke says. "Either corn is forming a heck of a base or we're going to break lower because the fundamentals suggests that if we plant 97 million acres, the carryover is more like 3.6 billion or 3.7 billion bushels."
Even though farmers are being compensated by the government due to the COVID-19 pandemic, Gulke says, that's not fixing the crux of the problem. 
"We're getting a lot of money through the mailbox, but that's not building demand and we really need to see that," he says. "So, I guess I'll continue waiting for the market to tell me which way it wants to go."
Crop Tour Across the Midwest
For the past week, Gulke has been traveling across the Midwest. He left northern Illinois, went through Wisconsin toward Minneapolis, Minn., then into North Dakota. 
"It's quite a difference than last year," he says. "Wisconsin and Minnesota are both ahead of schedule in planting. It wasn't until I got to the Red River Valley area, I started to see problems. Everything that I had heard was worse than I heard. I saw acres and acres of unharvested corn still standing from last fall."
Gulke headed further west into North Dakota. Still, he saw very little planted or even fieldwork done. 
"It wasn't until I got probably 30 or 40 miles southeast of Minot that I saw some things being done," he says. 
On the way back to Illinois, Gulke took a different route. He still saw acres and acres of untouched farmland. 
"I just continued to be flabbergasted," he says. "I would say 90% of my cousin's corn is still standing in the field."
In South Dakota, Gulke says, you could row the corn. Same in southern Minnesota. "Those crops look excellent."
Will all the intended corn and soybean acres get planted this year? 
"We'll see," Gulke says. "Unlike last year, where corn was going rallying this time of year to tell us to stay in the field and plant, there is just no incentive to keep planting corn. Maybe this party isn't over yet. We could get a weather market this summer and drop our national yield or lose more acres."
 
Read More
Jerry Gulke: Time is Running Out for Patience
Jerry Gulke: Is Government-Induced Supply Control In Our Future?
Find more written and audio commentary from Gulke at AgWeb.com/Gulke
Check the latest market prices in AgWeb's Commodity Markets Center.
Jerry Gulke farms in Illinois and North Dakota. He is president of Gulke Group. Disclaimer: There is substantial risk of loss in trading futures or options, and each investor and trader must consider whether this is a suitable investment. There is no guarantee the advice we give will result in profitable trades. Past performance is not indicative of future results.