The grain markets were slightly negative to close out the week. December corn is down 7¢ and November soybeans are down around 2¢, for the week ending Oct. 18. Yet, December wheat is up nearly 24¢.
These price moves have a backdrop of more news in the U.S.-China trade war. Chinese officials are willing to start purchasing more U.S. agricultural products as part of the "phase one" trade deal, but it is not likely to reach the $40 billion to $50 billion touted by Trump under current circumstances, according to Bloomberg.
The negative market reaction, says Jerry Gulke, president of the Gulke Group, is likely because these trade talks have gone on for so long.
"I think the market is reluctant to put too much stock in these announcements," Gulke says. "However, when you look at the price charts, we have rallied back in December corn."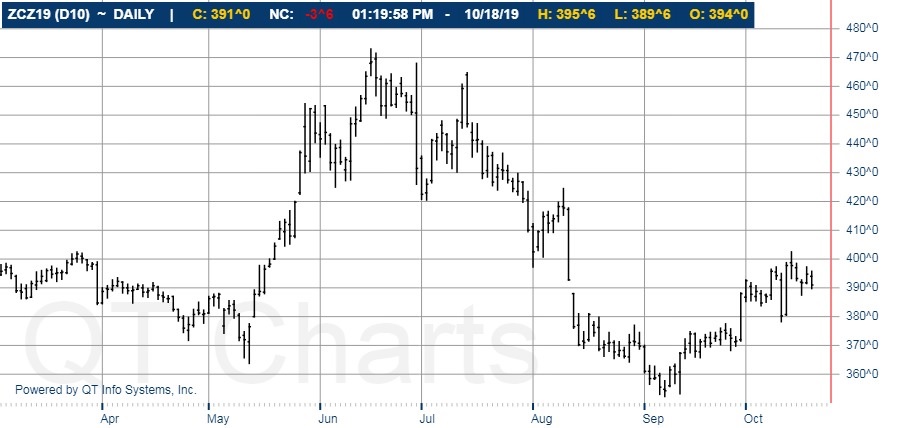 Since early September, December corn has recovered 38% of the June-to-September drop. That has happened, Gulke notes, while yield estimates have reluctantly stayed higher than anticipated.
 
"This big retracement can be a sign that we're neutral and need something new, and that's what we need," Gulke says. "We need China to buy some grain from us, some corn in particular. But we haven't seen that, nor have we seen the rest of the world buying corn from us."
This is not from a lack of demand. 
"It's because Brazil continues to export corn like crazy every week, and we think they could run out pretty quick, but they haven't yet," he says. "So maybe our turn is coming."
For soybeans, Gulke says, prices are trying to rally back to the June 18 highs.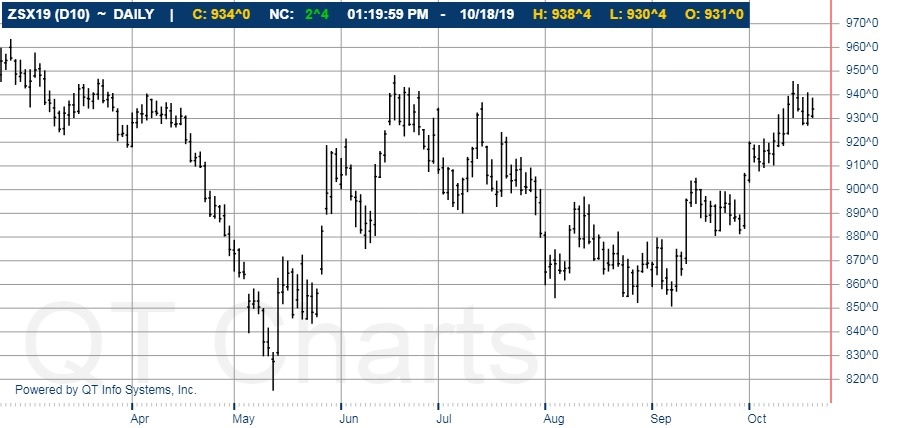 "We're back to the highs of when we thought we weren't going to have any kind of crop at all," he says. "That tells me soybeans have a lot more strength, oddly enough. What we need now is for the lead month of soybeans to close above its high for the for the year, which will be in June 18 price."
In wheat, Gulke says, prices are following their normal pattern: when they turn, it just shoots straight up.
"We've rallied back to some former resistance levels," he says.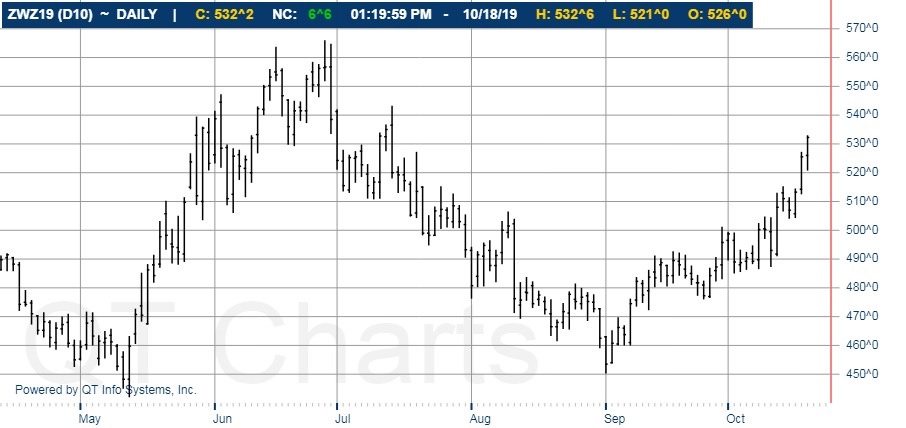 Harvest Reports
As of Oct. 13, USDA reports 22% of the nation's corn crop has been harvested. The five-year average for mid-October is 36% harvested. For soybeans, 26% of the nation's crop is harvested, which is dramatically below the five-year average of 49%.
Gulke is harvesting soybeans on his Illinois farm. He, like many other farmers, are seeing large year-over-year drops in yields.
"The common thread seems to be that although there are some good yields, but yields are 10 or 12 bushels below last year," Gulke says. "We're seeing the same. We have some beans yielding in the 44 bu. to 48 bu. range."
USDA's current estimate calls for the 2019 national average soybean yield to be only 4 bu. less from 2018. 
"I think the crop has room to shrink more," he says. 
 
Read More
Supply Side of the Equation Looks More Price Positive
Jerry Gulke: A Crop in Waiting
Jerry Gulke: Market Potential Versus Reality
Jerry Gulke: Volatility = Profit Enhancement Opportunities
Find more written and audio commentary from Gulke at AgWeb.com/Gulke