USDA's August World Agricultural Supply and Demand Estimates report was supposed to offer information to make a more accurate decision on the fundamentals of supply and demand going forward. While the final planted and harvested acreages remain somewhat elusive, we likely have as close to final numbers as we'll see until the final January 2020 report. 
Three Phases. The production year could be split into three phases: pre-May 19, May 19 to June 2, and post-June 5. Per the USDA progress reports, about 50% of the U.S. corn acres in the 18 major corn states were planted by May 19 versus the normal average of 80%. That suggests some mudding in occurred until abnormally wet conditions. Rains allowed only 8% progress each of the next two weeks resulting in only 66% of corn planted by June 2 (96% normal). Planting didn't reach 96% until June 23, so around 3.6 million corn acres were planted after June 23 and are extremely vulnerable if we have a normal frost or freeze. 
On Aug. 12, USDA raised the previous national corn yield estimated of 166 bu. per acre to 169.5 bu. per acre. Most feel the current expectations on yields are lofty given the aforementioned discussions. We know later planting dates reduce the chances of a crop reaching its potential. The question now, especially for corn, is what will it take to see a respectable price recovery? The price collapse basically removed all the weather premium of a $1 per bushel for corn and also sank soybean prices. 
Yield Drop? Assuming a further slight decline in corn demand, the U.S. corn average yield will need to fall to around 160 bu. per acre to tighten stocks and cause a price increase anywhere close to $4.40. The 3.6 million acres of very late planted corn would have to be a complete bust or each planting period would have to shoulder a yield reduction burden. This is not impossible, but Mother Nature would have to help with an early frost or freeze, which seems doubtful. 
However, with no quantifiable yield checks until the Oct. 10 report, positive conjecture around yields could positively affect market psychology. Soybeans could see yields reduced 10% to 44 bu. per acre, which would sufficiently tighten stocks and pressure South America for another good crop. South America has seen a 500-million-bushel drop in production before, and a repeat would make 2020 price discovery interesting.
2019/20 Supply and Demand (in millions of bushels per acre)
If yield and demand fall for corn, stocks will tighten and likely increase prices. For soybeans, a lower yield would dramatically tighten stocks and could also provide price support.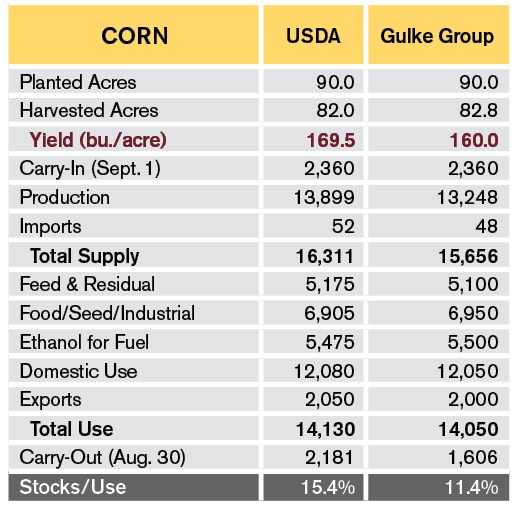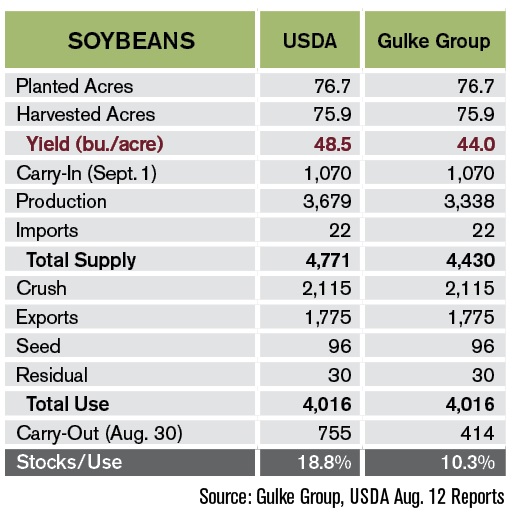 Jerry Gulke farms in Illinois and North Dakota. He is president of Gulke Group., a market advisory firm. Contact him at (707) 365-0601 or GulkeGroup.com. Disclaimer: There is substantial risk of loss in trading futures or options, and each investor and trader must consider whether this is a suitable investment. There is no guarantee the advice we give will result in profitable trades. Past performance is not indicative of future results.