The grain markets needed a shock, and the USDA reports this week delivered. The June 30 Acreage and Grain Stocks reports provided a major lift to prices.
December corn prices closed nearly 24¢ higher and November soybeans closed 36¢ higher for the week ending July 2. September wheat prices were up about 16¢ for the week. 
Here are the key acreage numbers released this week by USDA: 
Corn: 92.0 million acres, which is up 3% from last year and down from the Prospective Plantings estimate of 96.9 million acres
Soybeans: 83.8 million acres, which is up 10% from last year and up slightly from the Prospective Plantings estimate of 83.5 million acres
All Wheat: 44.3 million acres, which is down 2% from last year and down from the Prospective Plantings estimate of 44.7 million acres. 
The 5-million-acre drop for corn plantings certainly surprised the markets, as the pre-report estimate from analysts was 95.207 million acres of corn. 
"I was surprised we would drop that much in corn acres," says Jerry Gulke, president of the Gulke Group. "I thought we'd be down but dropping 5 million acres from what USDA printed at the end of March is big."
This drop in acres, in light of the low prices farmers saw this spring, provides a big lesson, Gulke says. 
"If you get the prices too cheap in areas that are marginal, it is a pretty easy decision not to plant corn," he says. "There was just no reason to spend money, men and machinery on a crop that wouldn't yield me a return. The market was saying don't plant corn, and we didn't. Kudos to the farmers."
On July 10, USDA will release its next monthly supply-and-demand estimates. Gulke says he'll be anxious to see the new numbers, as the big drop in corn acres will help reduce the carryover. 
In June, USDA estimated the 2020-21 carryover at 3.323 billion bushels. 
"If we use the current demand numbers, they could reduce that well below 3.3 billion bushels," he says. "If they would lower the national average yield by 4 bushels an acre to 174, that takes us to a 2.3-billion-bushel carryover."
As such, the focus of the market for the short-term will be weather and how that's going to affect the supply and demand.
"If it's hot and dry next week, then it could get interesting and it will get interesting quickly," Gulke says. "The market will then extrapolate what it thinks the worst-case analysis is and we'll come up with a price."
Technically Speaking by Jerry Gulke
Corn recovered in three days 50% of the loss it suffered from Jan 2, 2020, at $4.05 to $3.22 posted June 26. The 62% retracement equals $3.72 which came in area of the week just before the March 31 where the average guess was about 95.5 million acres versus 97 million acres in the report. This was before the drop in ethanol and COVID-19 shutdown. 
There were 2.2 million acres of corn yet to be planted when the recent acreage survey was taken (May 29—June 10). The market has discounted the drop in acres, with further gains dependent on weather next week and early August. 
Soybeans: A 50% retracement equals $9.09 and a 62% retracement equals $9.26. Given the ebb and flow of weather and if the dome of heat reappears in early August, soybeans maybe at bigger risk of supply tightness than corn plus China buying under Phase I is still that carrot on a stick. There were 12 million acres yet to be planted at survey taking time. See this special note sourced from the WASDE Report below: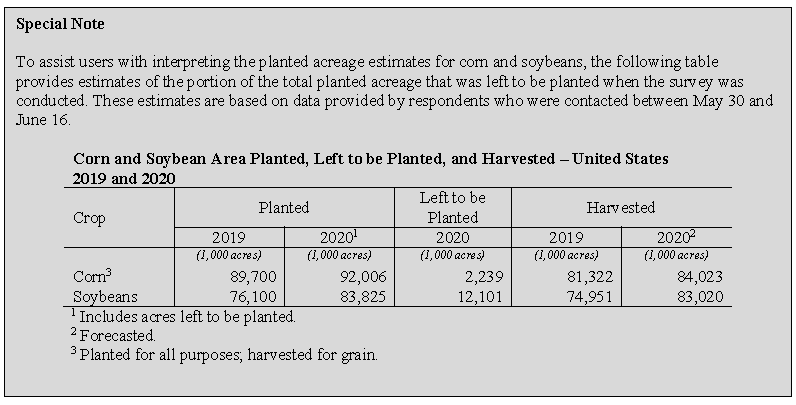 While there was a point ahead of such a major report where time and price were favorable for pocketing profits from hedges ahead of a very important report and weather influence. I recall 2011 where a similar situation created more obvious signals to completely exit all hedges the day before the report. Weather then began its 5- to 6-week market and corn topped over $3 higher in early August. 
It was not easy then to sell in the heat of the day. Nor will it be when the top of this weather market ends. Like June 2019, it will likely look the most bullish. Those that had sell orders in place at every nickel higher laying at an elevator will likely get nervous right at the top. Market psychology hasn't changed however. This won't be easy! If I can help, give me a call. 
Good Marketing, 
Jerry Gulke (www.gulkegroup.com); phone 707-365-0601 or email me at [email protected]


 
Source: Gulke Group
Read More
Will the Corn Acreage Estimate Resuscitate Prices?
With Surprise Acreage Drop, Pendulum for Corn Prices is Swinging
 
Find more written and audio commentary from Gulke at AgWeb.com/Gulke
Check the latest market prices in AgWeb's Commodity Markets Center.
Jerry Gulke farms in Illinois and North Dakota. He is president of Gulke Group. Disclaimer: There is substantial risk of loss in trading futures or options, and each investor and trader must consider whether this is a suitable investment. There is no guarantee the advice we give will result in profitable trades. Past performance is not indicative of future results.