The grain markets sank again this week. December Corn ended 15¢ lower for the week ending Aug. 2, with November soybeans around 32¢ lower and December wheat nearly 13¢ lower. 
"The charts kind of tell the story," says Jerry Gulke, president of the Gulke Group. "We've come pretty much full circle."
Take a look at the December corn chart (top), followed by the November soybeans chart and the December wheat chart. The markets have taken back the gains made due to the weather scare, which started in mid-May, Gulke says.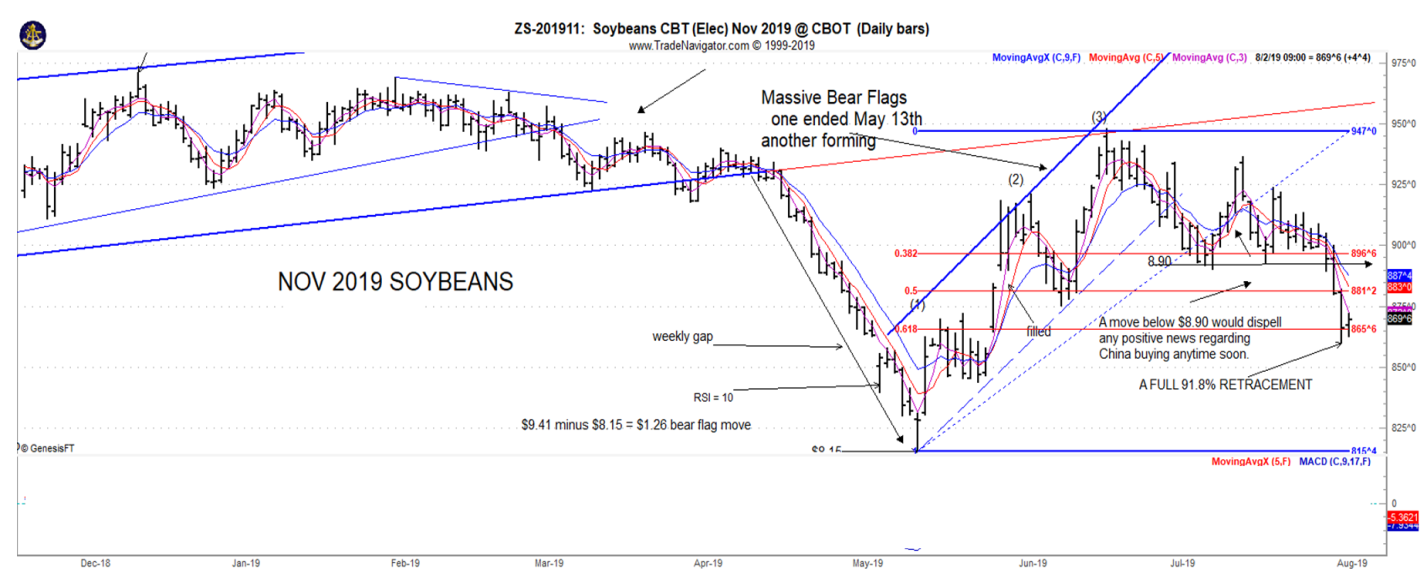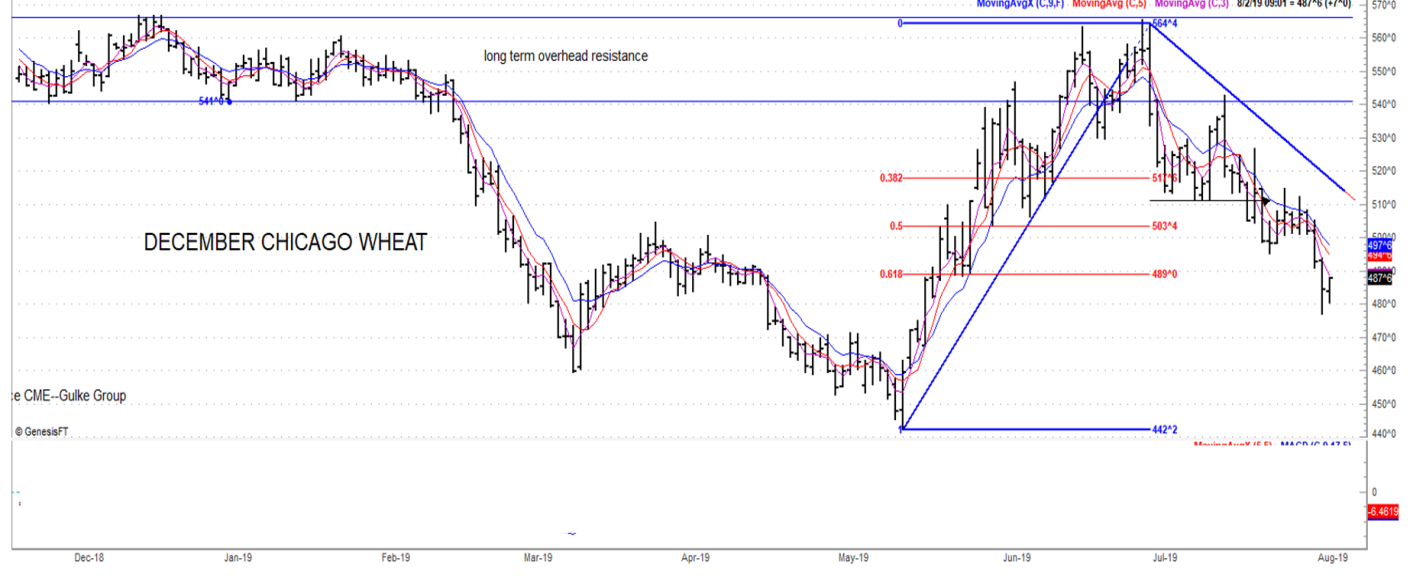 "The market has taken it all back, and I guess it's time for agriculture to reassess where we've been," Gulke says. "Note the various warnings the charts gave us and now nearly every commodity of importance has retraced from 61.8 % to 100%. Essentially markets have retraced to levels that are reflecting near zero chance of a 'deal' and that anything we produce is going to be too much." 
Some of the same risk elements present today are the same as they were 60 days ago, Gulke says. 
"When you drive around to look at the short corn and soybeans, whether it's an Illinois or North Dakota, the crops just aren't coming along as well as they should," he says. "I'm subject to that same emotion. I drive around and look at my crops and think, 'Boy, they look good.' And then I stop and think it's Aug. 1, it's not July 1."
With the markets back at these levels, Gulke says, farmers should take a reevaluation of their situation and expectations of the markets. 
"If you still believe that there's market potential left, the markets are giving you a second chance to own your grain you previously sold, if you so desire to do that," Gulke says. "My concern is the person that sold corn at $4 was really disgruntled when it went 50¢ or higher. Now that it's come back down, they'll say, 'Yeah, I knew I was right, and the party's over. It's going $4 again, and the bottoms are going to fall on agriculture, so I'm going to sell whatI got left.'"
That's the emotional side of marketing, Gulke says. "We have to be careful here, so we don't do something really stupid," he says. 
Looking forward, Gulke says, the next big market mover will likely be the Aug. 12 USDA reports. 
"The risk is pretty low, to me, that we're going to get a tremendously bearish report," he says. "With the levels we're at, how much worse could it get possibly?"
With yield still a big question market, Gulke says, he'll be focusing on the planted acre numbers for corn and soybeans. He also thinks USDA may adjust the demand picture.
With lower corn prices, for instance, U.S. corn is more competitive on the global market than it was two months ago. 
"We'll want to take a look and see what USDA says about demand now that we're at $4," he says. "This whole dynamic has changed with a collapse in the markets—we're more competitive and we should see the government saying crop exports won't be dropped as much as the bears out there think."
Technically Speaking by Jerry Gulke 
Well the debate begins anew but the overall strategy to slow down China was in the tea leaves years ago!  
China is arguably the biggest long-term threat to the U.S. and our global free economy and as we have seen the tariffs have had an effect of slowing their economy (GDP growth) to the lowest in 27 years. There is speculation that e tariff acceleration was part of Trump's strategy all along?  
I speculated 15 years ago that the free world could not allow China to overtake the U.S. economy, and there would have to be an orchestrated slowdown. The U.S. economic crisis of 2005—put efforts at bay to save our own economy through stimulus and delayed the process of slowing a smaller economy of China to more tolerable 5-6%. That has now been achieved with more slowing likely putting off their "silk road" ideas while we have seen our economy grow by 2-3%. 
So, an orchestrated pseudo global slowdown using China as a conduit is working and Trump knows it as do both side of the political isle and U.S. companies, save a few (20) that are running for the same office promising to derail the whole process. 
The question then, is what does this mean for US agriculture?  What does this mean for world bean demand from China?   What does all this mean for world trade and prices? These questions and others will be approached on a daily basis. If interested, contact me at [email protected] or call 480-285-4745 or 707-365-0601. 
Good Marketing,
Jerry Gulke  
Read More
Jerry Gulke: Volatility = Profit Enhancement Opportunities
What To Know Before The August USDA Reports
Jerry Gulke: Grain Markets Drift Lower Nearing Major Support
Find more written and audio commentary from Gulke at AgWeb.com/Gulke