The grain markets showed little net movement this week. December corn prices were down 4¢, November soybeans up nearly 4¢ and September wheat was up 5¢, for the week ending July 24.
Weather, relations with China and export sales all weighed on the grain markets this week, says Jerry Gulke, president of Gulke Group. 
"Last week we thought we'd have hot weather, and we did have hot and humid weather," he says. "But humidity makes thunderstorms, so we've had rain falling."
Weather took second fiddle to China news, Gulke says. The United States has told China to close its consulate in Houston, both countries said on Wednesday, further deteriorating bilateral ties, Reuters reports.
"Its kind of tit for tat," Gulke says. "China has been buying grain and I think they want to make good on that the phase one agreement, which is almost six months behind us. We do a lot of speculating and wondering what China will do, and it's just kind of created a whole new meaning for a sideways market."
Gulke says there's some speculation exporters they're having a hard time sourcing grain from U.S. farmers. As of June 1, 3.03 billion bushels of corn are stored on farms, while off-farm stocks total 2.20 billion bushels.
For soybeans, on-farm stocks totaled 633 million bushels and off-farm stocks are 753 million bushels.
"You would think that by now, if farmers needed cash flow, they would have sold their beans," Gulke says. "There's speculation the market may have to inverse, where the nearby contract will have to be priced higher than the following contract. We've had carry the last few years where every successive market futures market is higher than the previous one. Well, now we're getting close to where August may have to go higher than November to give the disincentive to hold beans."
This situation points out, Gulke says, farmers with on-farm storage are more in control of their destiny today than they were 15 years ago.
Weather Still At Play
On Friday, Gulke finished spraying 100 acres of soybeans on northern Illinois farm. 
"We've had timely ranges and I don't know if I've had beans look this good in my lifetime," he says. "I'm hearing that from other people. Corn also looks good."
Based on the good crop reports he's hearing from clients in other states, Gulke says the national crop yields will likely stay high.
"There's not been a big 2" or 3" rain that has swept across the whole Midwest and takes everybody out of harm's way," he says. "But the good areas are getting rain and the bad areas are maybe getting a little smaller. So, we're leaning more to good-to-excellent than we were before."
As of July 19, 69% of the U.S. corn crop and 69% of the U.S. soybean crop received good or excellent ratings. 
---
Hear Jerry Gulke cover key themes and strategies he's gathered during his career during the Farm Journal Field Days. Register now!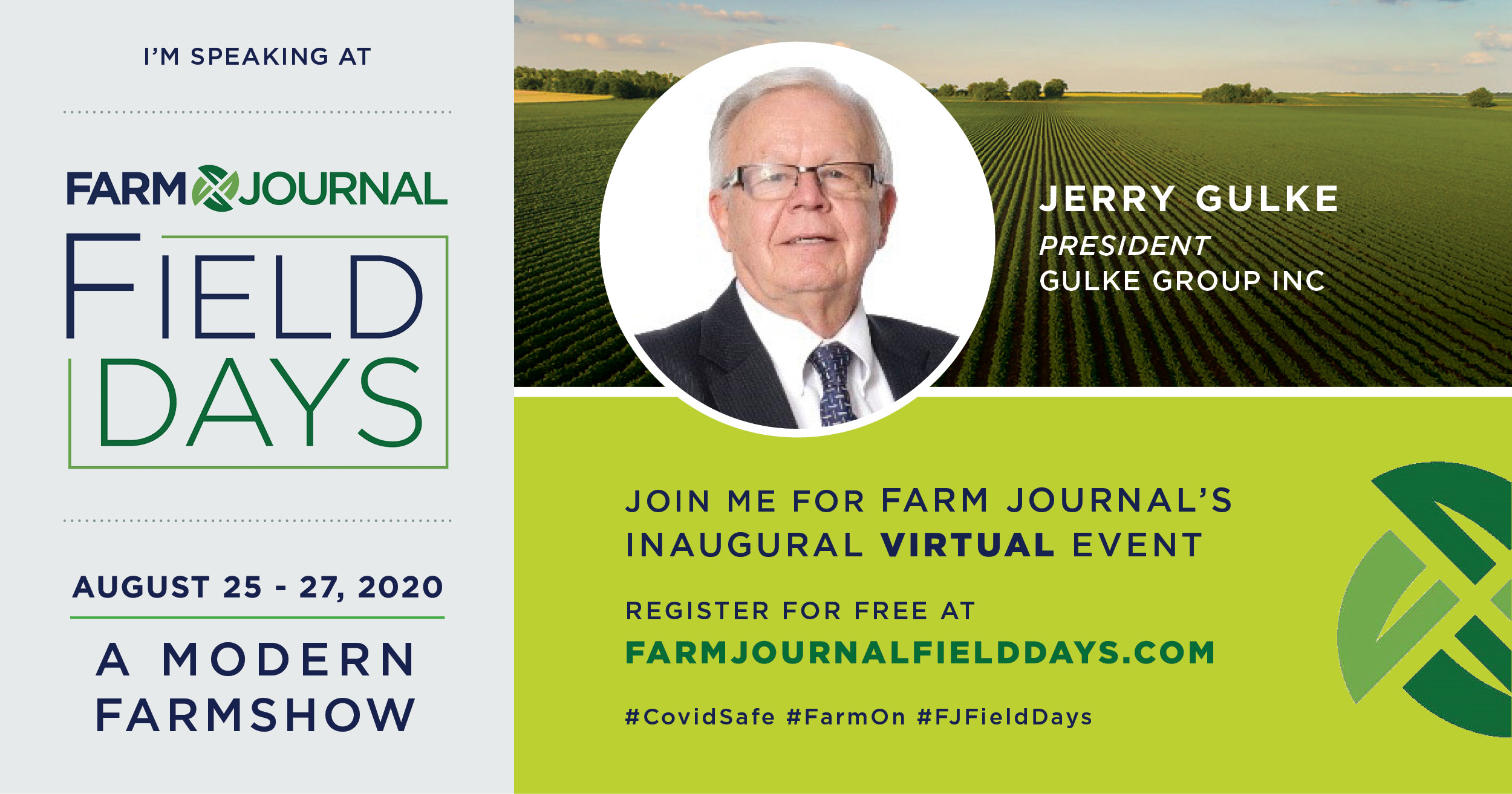 ---
Read More
Jerry Gulke: Will Weather Set the Next Trend?
Jerry Gulke: USDA Report Provides Early Fireworks
Will the Corn Acreage Estimate Resuscitate Prices?
With Surprise Acreage Drop, Pendulum for Corn Prices is Swinging
 
Find more written and audio commentary from Gulke at AgWeb.com/Gulke
Check the latest market prices in AgWeb's Commodity Markets Center.
Jerry Gulke farms in Illinois and North Dakota. He is president of Gulke Group. Disclaimer: There is substantial risk of loss in trading futures or options, and each investor and trader must consider whether this is a suitable investment. There is no guarantee the advice we give will result in profitable trades. Past performance is not indicative of future results.