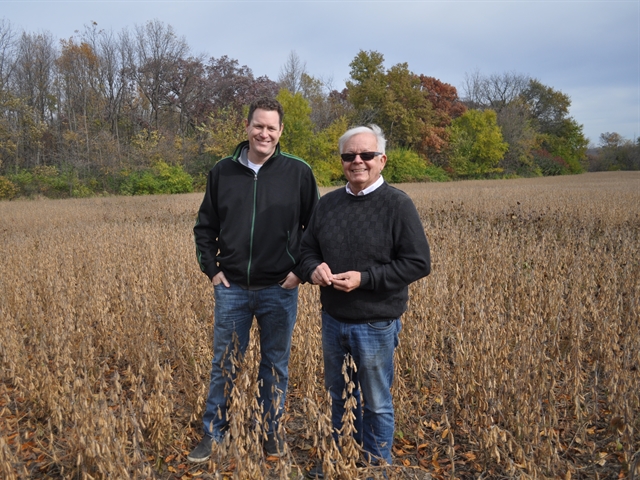 As the harvest wraps up, Jerry Gulke says there's a cornucopia of things for which farmers can be grateful this Thanksgiving.
A slower than expected harvest. "You've got to prove you can put the crop away and that you didn't flood the market with $3 corn, and the buyers will have to come in and pay a little bit more for it," says Gulke, president of the Gulke Group in Chicago and a farmer in Illinois.
Basis improvements. "The good news is that the basis is starting to narrow in places where the harvest has been completed," says Gulke. That's good news for farmers in areas like Northern Minnesota and the Dakotas, where corn prices effectively dropped below $2 late this summer due to transportation challenges.
A serious cold snap in some areas that allowed some farmers to store their wet grain if needed. In North Dakota, temperatures went from a balmy 70 degrees to a chilly 30 degrees to a frigid 7 below in a matter of days, according to Gulke. "That really shocks that corn and gets it down to where it's good enough to put in bags and put in the bin without drying it," he explains. "It may be frozen, but it's wet and they'll deal with that later."
Listen to Gulke's full analysis here:
A monster corn crop that turned out to be a little smaller than expected. "I don't think the crop's going to get any bigger," says Gulke, who says test weights have been a little light compared to last year, which will reduce yields. "I think there's some room in there for adjusting the crop lower again into the January report," he says.
The power of the bean. "Soybeans are astonishing," says Gulke, marveling at soybean prices, which were up 18 cents in late afternoon on Friday to hit a January futures price of $10.39. "We're 99 percent done harvesting, and Brazil is off to a good start," Gulke notes. "Soybeans aren't $7.50 like a lot of guys thought."
China's decision this week to cut interest rates. "China's a big player, and if they've got the money to eat, they'll eat as much or more," Gulke says.
Potential price gains in corn and beans. "I've got a pretty good hunch that $11 is going to stop beans in the front month, unless something happens in Brazil. And we shouldn't go below 3-level in corn again. It seems like we're knocking at the door of $4—there's some resistance there," Gulke observes. "However if you look at some of the technical aspects of the market, there's a chance it could even hit $4.50 in the lead contract. I think we've got room to grow."
What's on your gratitude list for the grain markets this year? Share your thoughts on the AgWeb discussion boards.