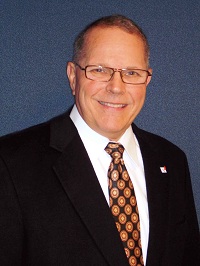 Cattle feeder Jimmy Maxey from Fresno, Calif., was elected by fellow Cattlemen's Beef Board (CBB) members to serve as CBB chairman in 2015. The vote came today during the 2015 Cattle Industry Annual Convention in San Antonio, Texas.
Get to know Jimmy in the following interview:
Tell us about yourself and your history in the cattle business.
Maxey:  My mom and dad raised livestock in the California Delta on one of the islands and when the levy broke, it was no longer economically feasible for them to stay there farming. They moved back to Fresno and in January 1951, bought a small ranch and continued in the livestock business but "started over" by going to work for a national meat-packing company. My father started on his own in the meat business in 1954. I was raised working cattle and working in a meat-processing plant.
How does this background give you a unique view to the CBB?
Maxey:  I've seen a lot of what our checkoff investment does for us. Where I first saw the results of those investments was in 1993 when we had the E. coli Jack-in-the-Box incident. I saw how our checkoff dollars were being put to work in the industry through research, providing a future for the cattle industry and the packing/processing industry as well. Without the work the checkoff does, that incident could have been a lot worse. Same goes for BSE in 2003.
Tell us about your family.
Maxey:  I have two sisters and my family worked together in the meat processing business over the years. I was married to Deana in 1973 and have four children:  two boys and two girls. The boys continue in the meat processing business and "allow me to come to work every day;' one daughter is a teacher and the other is a dental hygienist. I have nine grandchildren. I attended Fresno State University for three years, but as the business was growing at such a fast rate, it drew me away from college earlier than it maybe should have.
What is some of your other industry involvement?
Maxey:   I have served as president and chairman of the National Meat Association, chairman of the California Beef Council and served on the California State University – Fresno Animal Science Advisory Board. I also have my HACCP certification.
How and why do you encourage other producers to believe in the beef checkoff?
Maxey:  What the checkoff does is enhances beef's image. Combined with the great export story, that $11.20 return on every dollar invested in checkoff programs wouldn't be in producers' pockets if the checkoff didn't exist. And I go back to what I mentioned earlier – if we hit a situation that could be devastating to our industry, we have both the people and the dollars that can step up and protect the future of our cattle industry.
What do you hope to accomplish in your year as CBB chairman?
Maxey:  I want to work hard within the beef  industry and cross-industries so people realize the nutritional value of beef. We are the favorite protein in my book and I think in a lot of people's book. But I think there are questions about nutrition and the environmental impact of the beef industry. We need to reinforce to the general consuming public that beef is both valuable and enjoyable, and that as producers, we work very hard to protect the environment.
What do you see as the biggest challenge facing the beef checkoff and our industry?
Maxey:  We have a great story and a great product that people like. We have a way of life that people are drawn to. Developing that trust with a new generation and communicating our story is quite possibly our biggest challenge. Naturally there are various challenges we are all facing, but telling our story so people understand they're getting a nutrient-dense product that is part of a healthy diet, and that cattlemen are truly some of the first environmentalists, is a great opportunity for the checkoff.
What do you like to do in your spare time?
Maxey:  I'm fortunate enough that the furthest family member is 1.5 miles away, so I spend time with my grandchildren! Almost nine years ago, my partners and I sold our packing business where we were processing 2,000 head per day, so now I get to see my sons grow a business and that's fun for me as well.
For more information about your beef checkoff investment, visit MyBeefCheckoff.com.

Source: Cattlemen's Beef Board