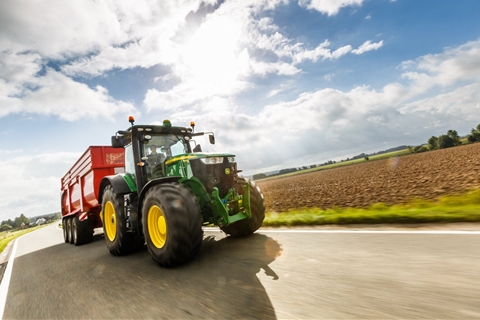 Since August, farm machinery manufacturer Deere & Co. has cut thousands of jobs, sold its crop insurance business and missed its Wall Street profit estimates, despite introducing its largest tractor ever.
But the Moline, Ill.-based company saw its stock rise more than 3% to $92.75 per share Thursday after investors learned that noted investor Warren Buffett's Berkshire Hathaway had dramatically increased its holdings in the publicly traded Deere last year.
The Omaha-based Berkshire Hathaway now owns more than 17 million shares of Deere & Co., a significant jump from the 3.9 million shares it held in the second quarter of 2014.
Whether you drive a John Deere or just watch the stock markets, the Berkshire investment signals a vote of confidence in Deere's ability to make it through the economic headwinds now facing the farm machinery industry.
"If you look historically at Berkshire's investments, Mr. Buffett has a tendency to gravitate toward high-quality businesses with good leadership and strong execution by management," said Mircea Dobre, a senior analyst with Robert W. Baird in Milwaukee, where he covers Deere and other public machinery companies. "Deere has a great brand, tremendous loyalty, the best distribution network in agricultural machinery, and product innovation. It's a leader in the space."
The company will need all of those advantages as farmers hold back on big purchases until commodity prices improve. "Deere isn't the only one dealing with this, but the equipment fleet is very new. There isn't a lot of replacement demand," said Dobre, who anticipates lackluster demand will continue through 2015 and "linger into 2016."