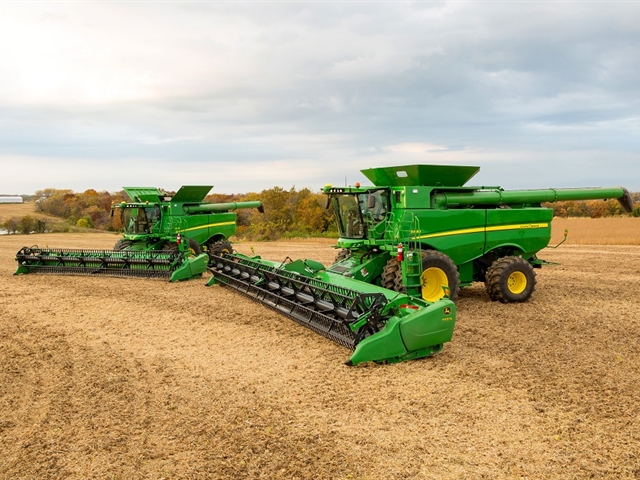 With a broad lineup of row crop and hay and forage equipment, John Deere releases several products for model year 2016. Travis Becton, Director of Marketing for U.S./Canada, sums up the release in one word: innovation. 
"We are driving performance in products to help customers boost yields, increase productivity and cut costs," Becton says. "This is an exciting time in agriculture, with the current population increasing by 2050, this is a great business to be in."
To view a few of the product highlights, view the descriptions, videos and photos below. To also view the 9RX four-track tractor and prices click here. 
S-Series Combine Updates
New shoe drive system with wider belt
12% larger cleaning sieve
DynaFlow Plus cleaning system

Increases combine capacity up to 10% in corn, 13% in wheat 

Active Terrain Adjustment

Automatically controls the fan speed and sieve/chaffer openings 
When running uphill, decreases fan speed and opens the chaffer and sieve
When running downhill, increases fan speed and closes the chaffer and sieve
Impact: Uphill slopes of 12-16 degrees, can result in $32-$64 savings per acre

Active Yield with automated calibration
Onboard air compressor
612FC folding 12-row corn head 
Configuration for 30" spacing
Improved row unit slip clutch and drive shaft interface
Provides up to 30 acres more per day (versus traditional eight-row)
Provides up to 6 acres more per day (versus traditional 12-row)
Reduces operating costs by 15%
600FD Hydraflex Drapers
3 new models: 630FD, 635FD, 640FD
New streamlined end dividers
Wider center-feed section to accommodate higher volume of crop

Increase in center belt drive speed 
Increases material feeding by 15%

More robust reel fingers for greater pickup

Centered divider design
30% stronger reel fingers

 Reduces crop loss
459E Round Balers
Edge-to-Edge net wrap option

75% faster compared to twine, results in 30% to 60% less spoilage

Produces 4- by 5-ft. bales
Equipped with six Diamond Belts 

Covers more than 90% of the bale chamber, 20% greater belt coverage
Reduces leaf loss, improves bale quality

Two wrap options: net or twine
Adjustable hitch, accommodates all sizes of tractors, ideal height of 16" to 18"
BaleTrak Pro Monitor
Prices range from $20,000 to $25,000, depending upon added options and twine-only versus net
W155 Self-Propelled Windrower
4.5 liter engine
155 hp
Four-point independent spring and shock cab suspension
Reversible operating station
Single-point multi-coupler with a hydraulic center link
AutoTrac Controller Kit option

When paired with AutoTrac Activation, GreenStar Display and StarFire 3000 Receiver, can reduce header overlap by up to 90%

9.5% faster transport speed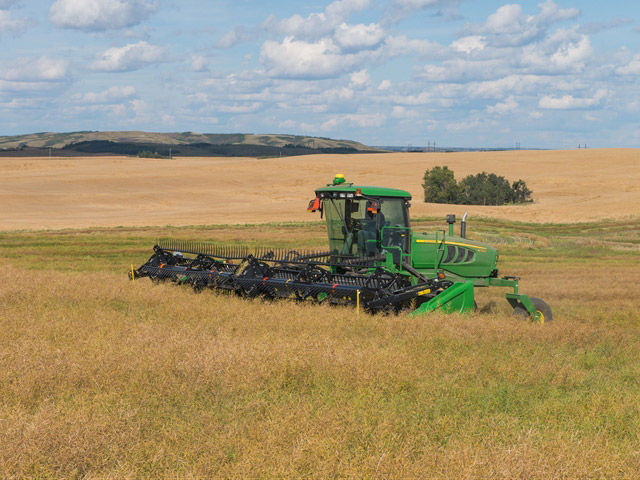 8000 Series Self-Propelled Forage Harvester
Three new models:

8300, 483 hp with 13.5-liter engine
8700, 755 hp, non-EGR 19.0-liter engine
8800, 832 hp, non-EGR 19-liter engine

Equipped with HarvestLab
Sports Small Drum Rotary Harvesting units from 6-12 rows
Equipped with all-new 9 series hay pick-ups
Automatically speed-matched to the length of cut
Offers 50% more uptime in-field
770 Plus Rotary Harvesting Unit

Outer drums turn inward
Reduces stalk and ear losses
Improves ability to harvest down corn

Active Fill Control, uses 2 stereo cameras mounted on spout
Allows for automated filling of trucks and wagons
Dual tire option available 
Boost in fuel efficiency (up to 6% in corn and up to 15% in grass)
Sports a pivoting frame
TruSet available on 2730 Combination Ripper 
Independently adjusts depth and pressure settings from the cab, on-the-go in up to 6 seconds
Quickly responds to changing conditions; running deeper over end rows, working shallower on hilltops and lighter soils
4 memory set points

Allows to save settings for most field conditions
Can fine-tune adjustments on display

Can adjust depth settings for disks, rippers and closing disks on the 2730 
Can change pressure setting for active hydraulic rolling baskets
Adjustments made in-cab from GreenStar 3 2630 Display
Allows for real-time data for actual tillage settings
2510H High Speed Applicator with Dry Nutrient Attachment
Offered for the current 2510H, 15-row applicator
Adds dry N, P and K while simultaneously injecting anhydrous
Offers two tank sizes, 6- or 9- ton dry tanks
Three-season machine (pre, post and sidedress)
50% increase in equipment asset utilization, helps reduce soil compaction by eliminating trips
Provides underframe clearance for sidedressing corn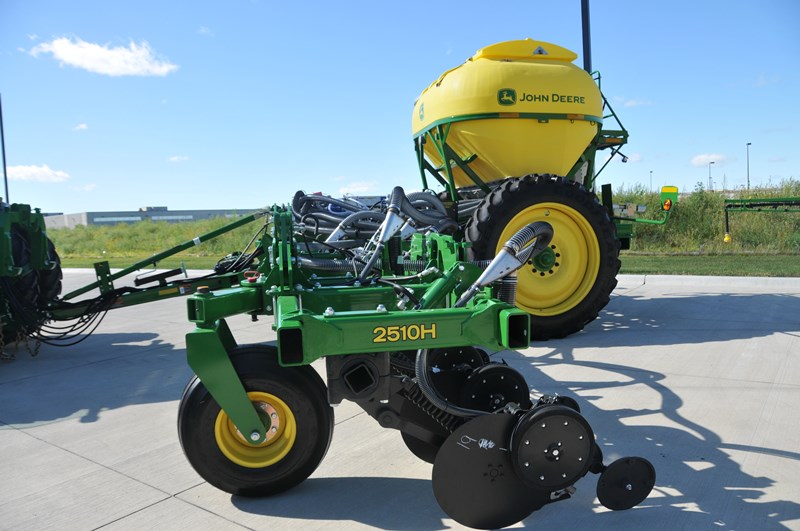 Triple-Mounted Mo-Co lineup
Two front machines:

F310R and F350R
Cutting widths of 3.1 and 3.5 meters

Both front machines can be combined with two different configurations or rear machines, delivers three different configurations: R870R, R950R, R990R

Cutting widths of 8.7, 9.5 and 9.9 meters

AutoTrac guidance system allows mower conditions to cut and condition at up to 28 MPH
Transport speeds can range up to 30 MPH and transport widths can be configured to 3.5 meters or less
New ground pressure cylinder allows for ground pressure adjustment in seconds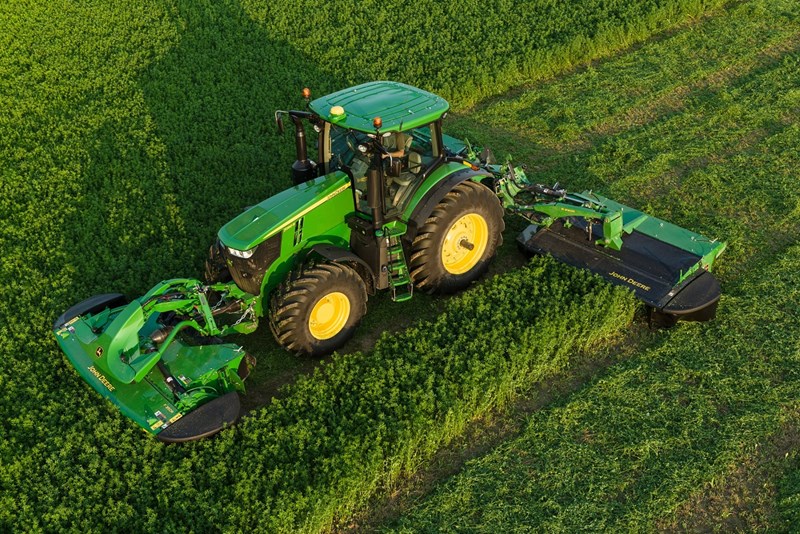 6E Series Tractor lineup
Three models range from 6105E, 6120E, 6135E
Sports a PowerTech engine
Saves fluid by handeling regeneration automatically
When combined with reduced fluid consumption, can save $2,000 per year
Two PowerReverser transmissions: 14/12 Hi/Lo with 11 working speeds, standard 12/12 transmission: 6 working speeds
Optional air seat with 15 degree swivel
Prices include:

6105E with cab – $72,964.00
6120E with cab - $79,014.00
6135E with cab - $85,084.00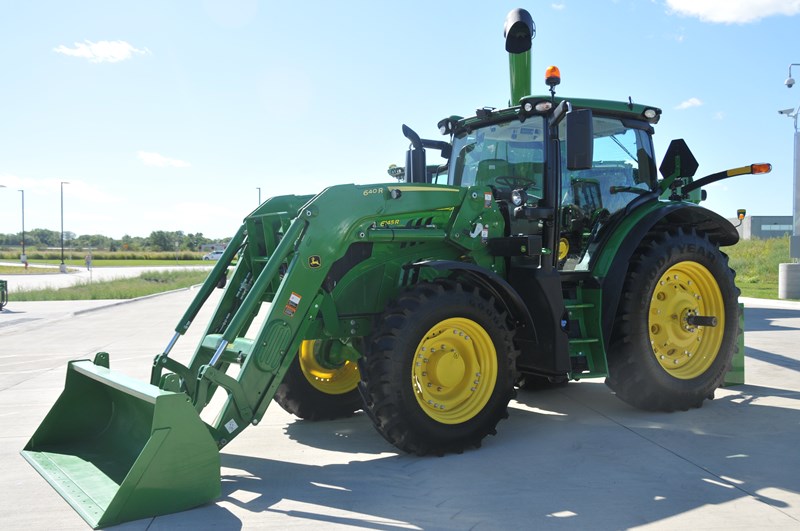 ExactEmerge RetroFit Kit
Available for late-model John Deere planters only
Can improve 100% increase in planting speed
Can boost 10% improvement in seed spacing accuracy
Available for model year 2011 and newer 1770NT CCS and 1790 planters
Also available for model year 2012 and newer DB Series planters
Components include: meter and hopper assemblies, cartridge assemblies, 56v electric drives and row unit controller assemblies, scrapers, cartridge guards, mounting hardware and others.
Kits require use of tractor power generation and GreenStar 3 2630 Display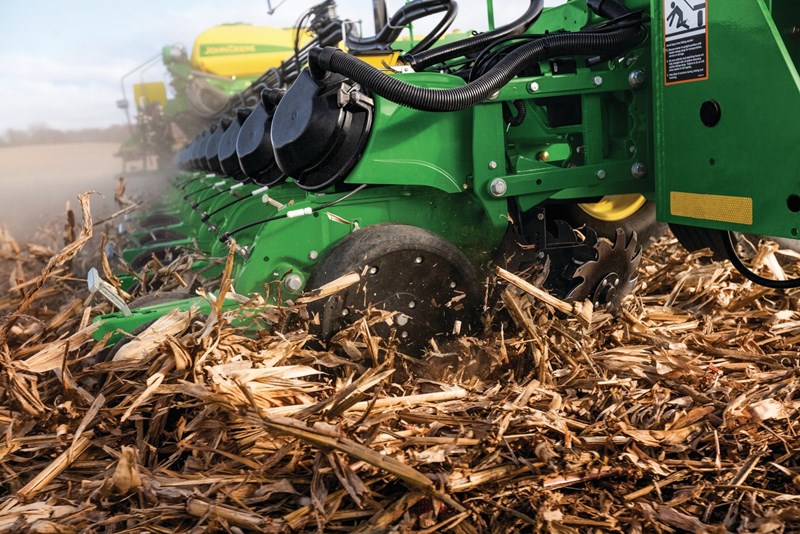 For pricing or to learn more, contact your local dealer or visit www.johndeere.com.