Kurt Sandgren from Hector, Minnesota is one of many farmers questioning the USDA numbers for this crop:
"No one seems to be answering the question as to why we have almost 6 million more acres of land either planted or prevent plant to major crops this year compared to the previous 5-year averages? How did we make more land? Would like an answer from the USDA. Something isn't adding up!"
Kurt, thanks for the question. It probably is one our market experts should tackle, but I've heard it before many times during many different years. My answer is I don't know where those acres come from and go to from year to year, but I know the total principle crop acres varies every year.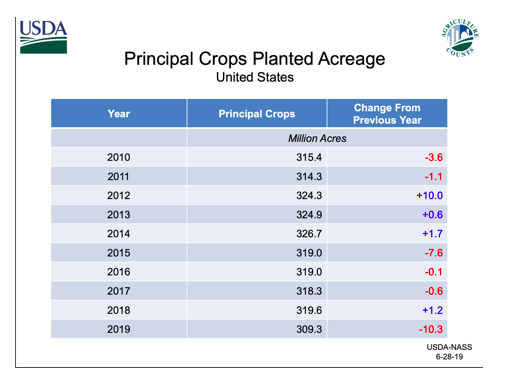 Here is a chart for the last ten years. You can see the variance was significant for 2019, but not unprecedented. We had a 10 million acre drop in 2012 – the drought year. This is what it looks like in chart form.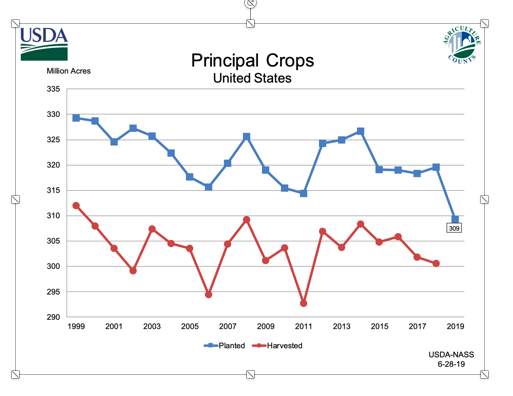 As for the lively debate over how unplanted and prevent planted acres were accounted for, Lance Konig, the Chief of the Crops branch of NASS has made extra efforts to explain the process. Tyne did a full report on his conversation with AgriTalk's Chip Flory as well.
The process is not exact, depending on interviews with farmers and observer estimates and a 2% error this season does not strike me as particularly alarming.
The more troubling aspect of this quarrel over acres is it may be a way for us to avoid the much larger problem – the demand side of the profit equation. While the accuracy of the crop acres and bushels will improve with each report, it is becoming clearer each day as well, we don't have enough buyers for even this relatively small crop. NASS, I think, is taking misdirected heat from farmers who are reluctant to acknowledge the effects of trade wars, EPA actions, and other demand decreasers like fake meats, lest  alone imagine how we will get supply and demand numbers closer together.
USFR 09/07/19 - Customer Support