An evergreen question this week from Tyson Chohon:
 "Given the current commodity prices and projected yields what effects are you seeing on agricultural real estate sale prices and cash rent values? How are these sale numbers trending compared to the previous years?"
The farmland market is unlike other markets, even other real estate, for several reasons. This makes it hard to peg prices at any moment and even harder to predict.
First, it is a slow market. On average about 4% of all farmland changes hands each year. This means it turns over roughly once a generation. Second, even more so than other real estate the land market is intensely local. It only takes two interested buyers to skew the local average. As a rule, it takes years for farm incomes to be reflected in land prices, which is rare in a world where other investments swing wildly based on one quarter's profit or loss. The national average price is interesting, but not very useful. Only very broad factors will affect the national average significantly. The impact of interest rates is frankly a mystery to me. While rates make mortgage payments more or less affordable, they also affect competition for investment dollars. As you can see real negative rates for bonds should be steering money to farmland, but it's hard to find evidence of that.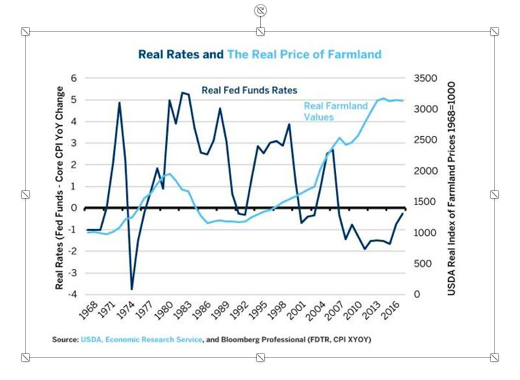 This is the national average from the ERS, and it indicates relatively flat prices for the last few years. Please note it is an index based on 1968 values.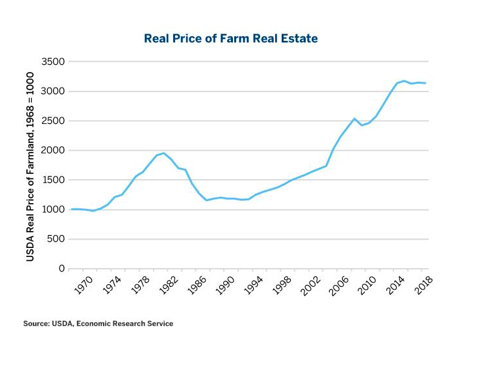 Since you're from Nebraska, these numbers may help more. Nebraska is in the 5th consecutive year of price declines.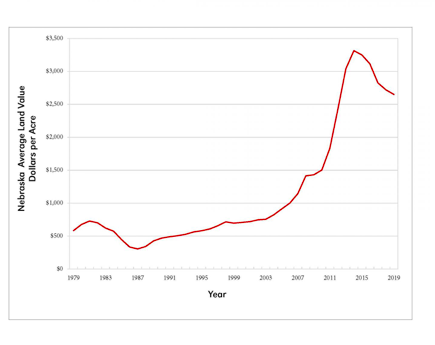 As for cash rents, here in Illinois, professional farm managers expect steady to softer rents. Nebraska rents are seeing a similar trend – a few percent lower - according to the UNL annual survey.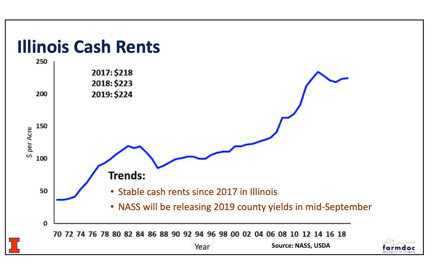 In summary, farmland prices and rents tend to be sticky, and lag farm income. Such very slow changes are hard to detect and measure in real time. I've been amazed land prices have not dropped due to low income, and I'll talk another time about reasons for this we may not be taking into account.
USFR 09/14/19 - Customer Support