OLATHE, Kan. – To provide hay and forage producers with more mowing options, John Deere has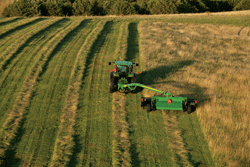 added two sickle cutterbar mower conditioners to its product lineup. The new mo-co models are the M160A and M180A, both center-pivot, pull-type machines. They feature double-knife sickle cutterbar platforms which are also used on the auger heads of the new John Deere self-propelled windrowers.
Jeremy Unruh, marketing manager at John Deere Ottumwa Works, says the two new mower conditioners meet the mowing needs of hay and livestock producers and provide more efficient mowing performance in the field. "Available in 16' and 18' cutting widths, the M160A and M180A mower conditioners provide the widest conditioning rolls on the market today for machines of this type. In addition, the forming shields can be easily adjusted to create windrows from 36" to 100" in width."
Both the M160A and M180A models have an enclosed oil-bath gearbox for the double-knife sickle cutterbar for reliable hay-cutting performance. It also gives a low cutting height, which maximizes the amount of hay cut while leaving a clean, even field profile.
In addition, the center-mounted pivot hitch and drive system allows for a shorter turn radius and the convenience of left- or right-side operation. For improved crop conditioning and faster drydown with less field loss, the new mo-co models have steel roll conditioning systems.
The M160A and M180A can be matched with 125-hp or higher tractors for optimal harvesting performance.
"These two models complement the full line of John Deere hay and forage products that include disk mowers, rotary mo-cos, self-propelled machines, and balers," Unruh says. "With 16' and 18' cutting widths and fast operating speeds, depending on the type and density of crop, operators can cut, condition and windrow large hay fields quickly and easily to put up high-quality hay and forage."
For more information on the new M160A and M180A mower conditioners, as well as the complete line of John Deere hay and forage products, visit your local John Deere dealer or
www.johndeere.com
.