The lineup for the 2015 model year is sure to impress with the most comprehensive portfolio the company has ever seen. From brand-new, large square balers, a self-propelled forage harvester, advanced windrower, the 9R series tractors and more, this lineup proves broad and aimed towards efficiency.

"We believe the products, the dealer channel and our integrated technology give us a very good synergistic approach to provide value to our customers," says John Lagemann, Senior Vice President of Sales and Marketing.
The company recently announced its plans to release its first-ever quad track tractor in the near future. The model is currently undergoing testing. Stay tuned for a release date and more information.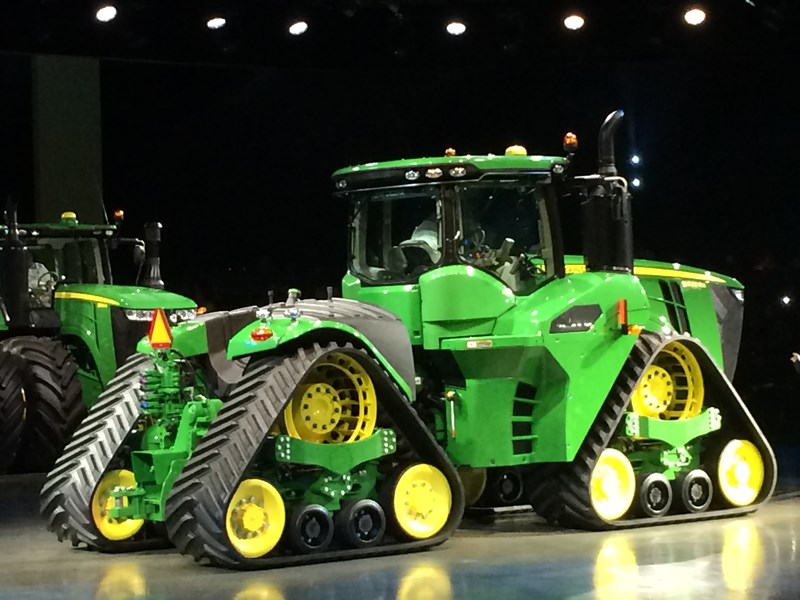 9R Tractors
Built with high-power, the 9R/9RT four-wheel-drive track tractors are hitting the marketplace as John Deere's most efficient and productive machines. With up to 620 horsepower, the 9R/9RT four-wheel-drive track tractors stand out as high-power, durable, versatile machines able to cover many acres across varying field conditions. The series features six tracked models: 9370R, 9420R, 9470R/9470RT, 9520R/9520RT, 9570R/9570RT, 9620R. The machines are equipped with a PSS 9.0 L and 13.5 L engines, along with the 15 L Cummins QSX15 engine, all Tier 4 Final-compliant. The high-power 9R/9RT lineup includes three key options to provide increased efficiency and productivity in the field. The options include: e18 PowerShift transmission with Efficiency Manager, HydraCushion Suspension System and Active Command Steering.
To read more about the 9R/9Rt tractors, click here.
 
Large Square Balers
Both high-capacity balers, the L330 and L340, are designed to produce dense, well-shaped bales across various field conditions. The machines feature a heavy-duty drivetrain with a 45 stroke-per-minute gear box to transfer power to other components. The L330 has a 83-inch working width and produces 3- by 3-ft. square bales. The L340 has a 90-inch working width and produces 3- by 4-ft. square bales. Both models have a heavy-duty single-fork system that compresses the crop tightly before transferring the hay into the bale case. Built with on-board hydraulic density controls, the in-cab monitors control the hydraulic pressure on the cylinders against the bale case. To ensure consistent, well-shaped bales the L330 is equipped with three hydraulic cylinders and the L340 has four hydraulic cylinders. To improve efficiency in the knotter drive system, both models are equipped with double-tie knotters.

To read more about the large square balers, click here.
 
Hilco Single Pass Round Bale System
Hilco and John Deere parntered to develop a system to harvest corn and bale corn stover in one simple step. The Hilco Single Pass Round Bale System is fully automated and offers continuous round baling with no stopping necessary. The baled material comes directly out of the back of the combine and the material never touches the ground. With removal rates of one ton per acre, the system removes a lower amount of nutrients from the soil keeping it on the field. On average, it removes .8 to 1.4 tons/ac. The Single Pass Round Bale System bales a high percentage of cobs and husks and the feed quality is higher than corn stalk bales. 


8000 Series Self-Propelled Forage Harvester
With four single-engine models ranging from 380 to 585 hp, powered by 9 L to 13.5 L John Deere engines, the new lineup of self-propelled forage harvesters offer not only power but superior efficiency. An additional 626 hp, 13.5 L engine model is available with wide-crop flow channel. All 8000 series are equipped with DuraDrum cutterheads available in two widths and KernelStar technology. The AutoLOC (automatic length of cut) feature allows the operator to dial in the precise cutting length based on forage conditions.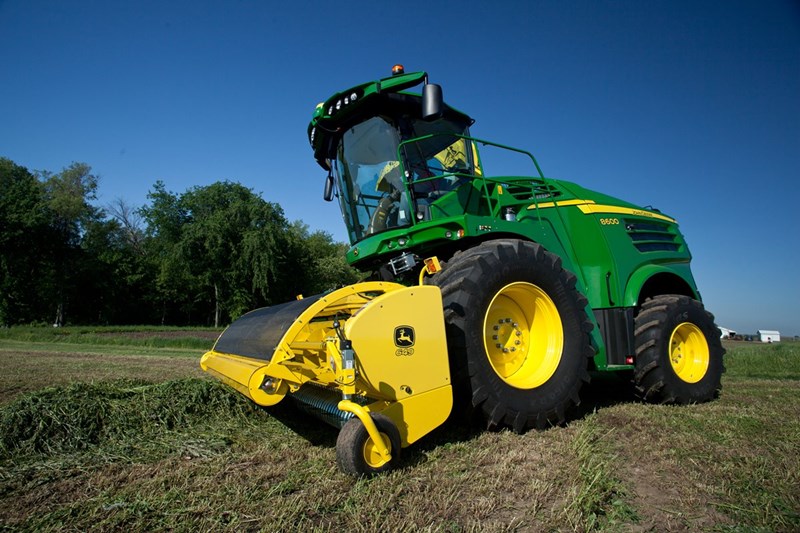 W260 Windrower
Forage producers can expect to cover an additional 100 acres a day using the updated W260 Windrower and 500R Platform from John Deere Combine. The combination results in improved cut quality and consistent windrow formation to minimize dry-down time. The 6.8 L Tier 4 Final-compliant engine, rated at 260 hp, is more than 25 hp than the previous W235 model. The machine is equipped with the latest John Deere technology including improved steering with integrated AutoTrac and the independent platform float feature which improves cut quality on uneven terrain.
2410C Anhydrous Applicator
Designed at widths of 19", 21", 23", 24" and 25" rows, the 2410C, equipped with a deeper frame design and floating hitch, meets the specific needs of operators, including 44" of underframe clearance. To maximize each pass in the field, the machine features a chisel option which provides the opportunity to apply nutrients and tillage in one pass. Equipped with adjustable closing disks, the machine is able to seal anhydrous at the 4" to 6" deep, while using less hp and faster speeds. The AccuDepth feature allows the operator to calibrate the depth setting of individual section row units from the cab, on-the-go. Along with the double shear bolt design and multiple knife option, these features allow ease from field to field in varying residue and soil type conditions.
 

2730 Combination Ripper
Built as a four-in-one tillage system, the 2730 delivers 44% more working width than the previous model, with a full 26 ft. To cover a wide range of field conditions, the 2730 allows for easy pairing of attachments including disks, ripper shanks, closing disks and rear attachments. The 26" blades, individually mounted or in a gang configuration, are set at an 18° angle for better sizing and chopping ability in tough residue. Each blade slices and buries residue with 350 lbs. of downforce. To provide smooth field conditions, a three-position rolling basket delivers a consistent finish. The features of the 2730 improve efficiency and deliver 40% more productivity than previous models.
 

R4045 Sprayer
The R4045 sprayer is an expansion of the 4 Series sprayer introduced in 2013 and replaces the 4940 sprayer. The 1,200-gal. sprayer is equipped with a 346 hp Final Tier 4 PowerTech PSS 9.0 L engine with four-wheel hydrostatic drive with a top field speed of 25 mph and 35 mph in transport. The option of a 90, 100, or 120-foot dual swing-link suspension, flat-fold booms can apply up to 230 gal. per minute with a high-flow pump and dual flow meter. The R4045 can be easily converted to a dry nutrient applicator by installing a 200 or 300 cu. ft. New Leader dry spinner spreader box. The Load Command System can fill the 1,200 gal. tank in less than three minutes and a front-fill option makes the process faster with 3" Quick Fill couplings.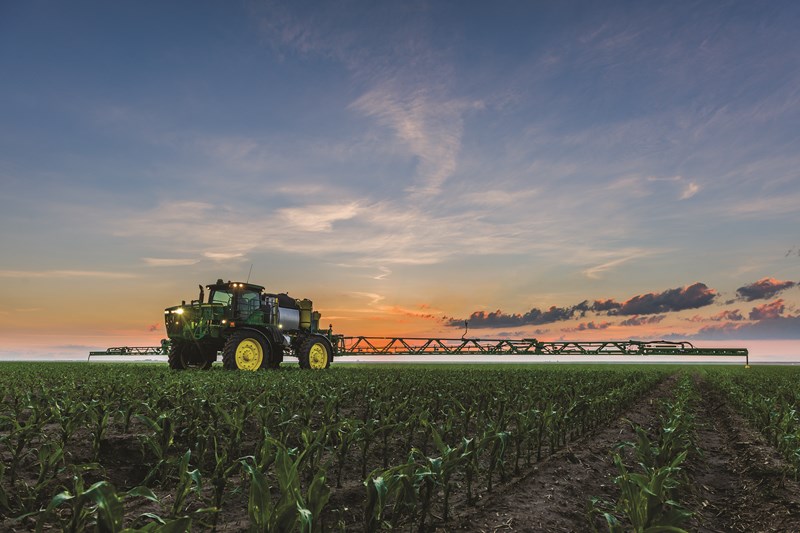 S-Series Combine and 645D Hydraflex Draper
Updates and new features to the S-Series combines, the S680 and S690, help boost productivity while in the field. Both models have several design changes including: the Tough Crop Packages consisting of Active Concave Isolation, interrupter bars and heavy-duty separator gates to squeeze more than 20% throughput out of machines and increase tough small grain harvesting capacity. To complement the S680 and S690, the 645D Hydraflex Draper, features a 45-foot operating width, an increase of 5 feet, which allows farmers to cover 10% more acres per day. The wide center feed section allows 15% more crop into the combine and the 25% greater slip-clutch capacity maximize draper efficiency.  
 
6R Tractors
Improvements and updates to the 6D and 6R Series Tractors will further enhance performance and operational capabilities. The 6D Series tractors are equipped with two new transmissions: a 12/12 PowrReverser or optional 24/12 PowrReverser Hi/Lo. The new transmissions will help with changing field conditions and keep engine RPMs constant for PTO-driven equipment. Extra horsepower will be added to the 6R Series lineup with three new models-6175R, 6195R, and 6215R. All engines are Final Tier 4-compiant. Both models will see a new hydraulic valve stack, improved visibility to rear SCVs, new remote rear couplers and an IVT transmission with new overdrive. Inside the cab, similar to the 7R and 8R models, farmers will notice a new CommandARM with a 7" Generation 4 CommandCenter touch-screen display and a 30° right hand swivel seat.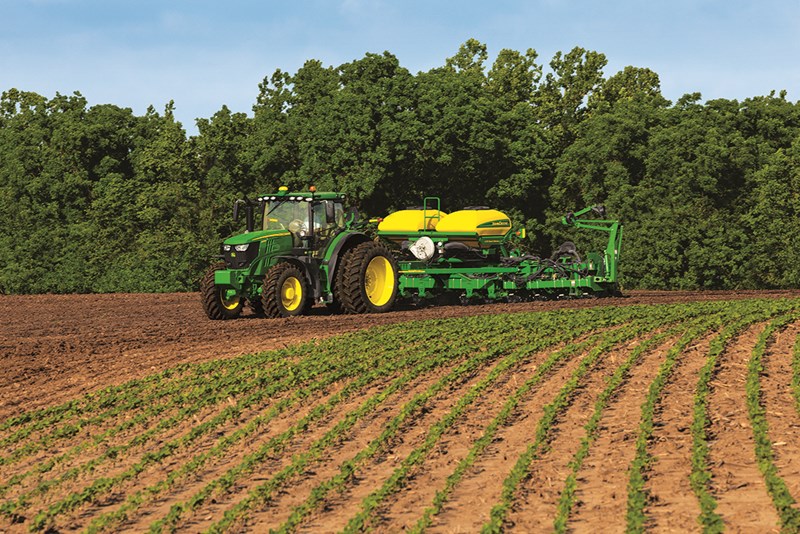 MyJohnDeere 
Managing machine and agronomic data on farms is getting simpler with the MyJohnDeere Operations Center platform. MyJohnDeere offers a secure means for customers to upload data using backup tools, or even directly from the field with JDLink. Data can be shared with dealers, crop consultants or trusted advisors from any Internet-enabled device and transferred easily.Tools such as Field Analyzer and Difference Maps offer producers operation insights related to increased yields, cost optimization, and risk management. Deere says its open platform will provide growers with a complete and comprehensive data management solution – with the overall goal aimed at increased productivity and efficiency across a farm.
For more information on the 2015 lineup, visit JohnDeere.com/ag.