John Deere has developed Machine Sync that provides timely, mechanical information on equipment location, operational status and automates equipment during harvest. 
The Machine Communication Radio is the first radio on the market that can create an in-field, high-speed wireless network to facilitate machine-to-machine communication. The radio is designed to enable up to 10 vehicles in a single network to distribute data between one another when operating within a three-mile radius. The system operates at speeds up to 10 mph.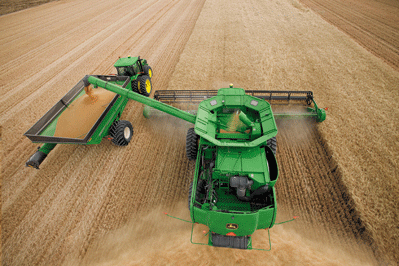 The radio is paired with the Machine Sync activation and GreenStar 3 2630 Display and StarFire Receiver to create the in-field network to share logistics information. The software provides the combine location and bin-fill status to the cart operator, who can determine how quickly the combine will need to unload; prioritize which combine to go to first when multiple combines are in the field; or call in additional carts as needed.
This technology also allows the combine operator to control the location of the tractor and grain cart for automated on-the-go unloading, lock the grain cart into position and adjust it as needed for optimal cart filling.
Watch a demonstraction of John Deere's Machine Sync:
---