The John Deere S-Series Combines include five models: S550, S660, S670, S680 and S690, which is an all-new Class 9 machine. The 400-bushel grain tank (standard on S680 and S690) is the largest factory-available tank in the industry and can unload 3.8 bushels per second.
The cab of the new S-Series Combines has been completely redesigned from the ground up—this is the first new combine cab from John Deere since 1989. The larger cab environment, with 30% more interior space, also incorporates a window design that provides more visbility of the unloading auger. An integrated armrest display features touch-screen capability and AMS precision technology functionality. Changing gears is simple with electric push-button shift  and ProDrive transmissions.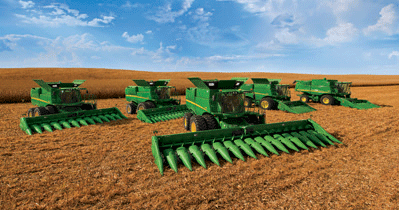 An automated folding grain bin cover is optional.
The cleaning system has been redesigned with a newly engineered cleaning shoe which delivers 33 percent increased capacity. The Variable Stream rotor is a new option that improves straw quality in rice and high-yielding small grains with tough, dense straw.
A new Premium Residue Management system provides more uniform material distribution; windrow straw for a baling application while spreading chaff; and a wind compensation feature added to the PowerCast tailboard. The Active Tailings System (also standard on S680 and S690) increases threshing and separating capacity by 8% to 10% for improved grain and straw quality. It also has an updated Harvest Doc yield and moisture monitoring system.
Model   Power Level at rated speed
S550       271 hp
S660       320 hp
S670       373 hp
S680       473 hp
S690       543 hp
John Deere introduces the 600FD HydraFlex Draper, which is available in 35- and 40-foot models and can run at ground speeds up to 10 mph.