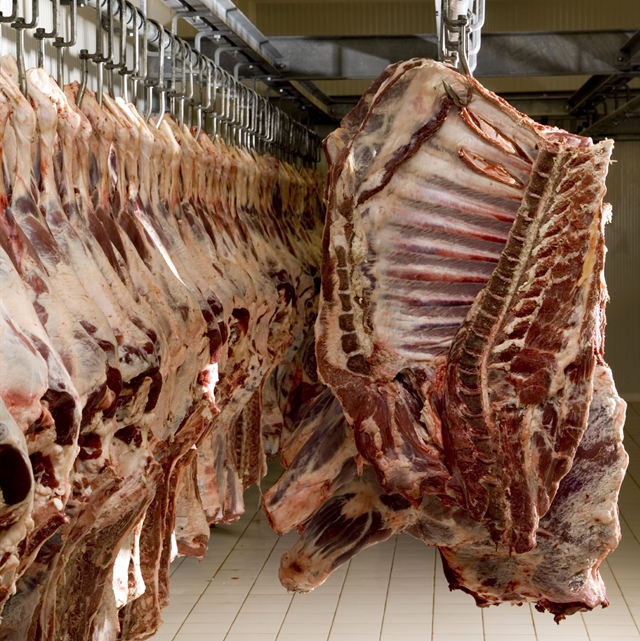 Amarillo, Texas-based Caviness Beef Packers has formed a joint-venture with the J.R. Simplot Company to build a new Idaho beef processing plant near Kuna, Idaho.

Pending approval of permits from all necessary regulatory agencies, construction of the nearly 300,000 square foot plant would begin in spring 2015 with an expected fall 2016 opening. 

The new joint-venture will operate under the name, CS Beef Packers, LLC. The joint venture is expected to invest $100 million to complete construction of the plant.

The plant is expected to process a maximum of 1,700 head per day, and could create up to 600 new jobs. 

The primary purpose of the plant will be to harvest cull cows and bulls from Northwest dairy farms and cattle ranches throughout the Intermountain West. The plant will also include hide and rendering processing and have the ability to process niche-fed beef programs. 

Scott Simplot, J.R. Simplot Company chairman, said the new plant will be the first significant processing operation in the region, reducing the need for dairy farmers and ranchers to ship cattle out of the area for processing.

It's estimated that there are more than 600,000 dairy cows and more than 600,000 beef cows in the region.

"This effort complements the area's dairy industry including milk, cheese and yogurt processors," Simplot said. "Our company has farmed and ranched in the area for nearly a century and we're excited to be a part of this joint-venture that will further guarantee the long-term success of the region's dairy and beef industries."

Caviness CEO Terry Caviness said Simplot and Caviness are both family-owned companies that complement each other.  "Together we will bring significant strengths and expertise to this project," Caviness said. "We look forward to being a valued partner to area ranchers and dairymen as we expand our footprint in the United States with another world-class beef packing facility."

Demand for beef is at an all-time high. The new plant will take advantage of advances in food safety and process technologies to create a processing facility that incorporates the best available technologies to effectively process beef safely and humanely. The final product will be prepackaged boxed beef that will primarily be marketed toward food-service suppliers and retail outlets.

"We are excited to bring a new advanced plant to the area. This plant is ideally suited to meet the increasing demand for processing from the dairy and beef cow industry," said Tom Basabe, president of Simplot Land and Livestock. "Caviness Beef has a long-history in beef processing. Caviness is the perfect partner to join Simplot in this joint venture."
 
About Simplot
The J.R. Simplot Company, a privately held agribusiness firm headquartered in Boise, Idaho, has an integrated portfolio that includes phosphate mining, fertilizer manufacturing, farming, ranching and cattle production, food processing, food brands, and other enterprises related to agriculture. Simplot's major operations are located in the U.S., Canada, Mexico, Australia, and China, with products marketed in more than 40 countries worldwide. The company's mission statement is Bringing Earth's Resources to Life. For more information, visit www.simplot.com.  
About Caviness Beef Packers
Caviness Beef Packers is a private, family owned company headquartered in Amarillo, Texas. The company operates processing plants in Amarillo and Hereford, Texas.  The company focuses on beef processing and marketing beef products nationally and internationally. Caviness products are marketed extensively to national foodservice, retail and further processing customers. For more information, visit www.cavinessbeefpackers.com.