Kansas State University in cooperation with Merck Animal Health recognized Joe Longoria, Salvador Angeles and Mike Lechuga as recipients of the "Top Hand" awards at the 2014 K-State Cattle Feeders College held May 22 in Sublette, Kansas.
The "Top Hand" awards were initiated in 2010 to recognize outstanding employees of the maintenance, milling, and cattle divisions of the commercial cattle feeding industry.
"The cattle feeding industry is full of honest, hard-working men and women that do their jobs and do them well," said Justin Waggoner, beef specialist with K-State Research and Extension and coordinator of the Cattle Feeders College and the awards. "The Top Hand award provides cattle feeders with a unique opportunity to thank the men and women of their operations that go above and beyond their job descriptions every day. These individuals have shown an exceptional amount of dedication to their employers and the industry."
Joe Longoria currently serves as the yard foreman for Cattle Empire #2 in Satanta, Kansas. He's been with Cattle Empire for 35 years and was nominated by Roy Brown, CEO of Cattle Empire and Nick Chesnut, operations manager.
Mike Lechuga and Salvador Angeles of Deseret Cattle Feeders were both nominated by manager, Michael Archibald in the maintenance and cattle crew divisions. Lechuga has been with Deseret since 2001 and Angeles has been a pen rider for 27 years, beginning in 1987.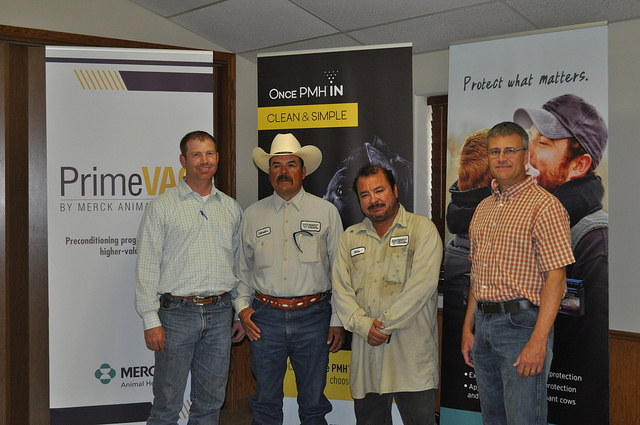 Pictured from left: Michael Archibald, Salvador Angeles, Mike Lechuga and Chance Morrow.

Source: Kansas State University