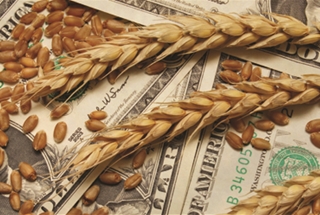 The Kansas Wheat Alliance said a southeast Kansas farmer's decision to pay a $10,000 settlement for selling a wheat seed variety without authorization is part of a larger effort to stop the practice that's commonly known as "brown bagging."
Paul Simpson of Weir sold Everest wheat variety seeds, a violation of the federal Plant Variety Protection Act that protects property rights of the seed breeding work done by private or public groups.
Farmers who buy certified seed are allowed to save and re-plant seed of most wheat varieties, but cannot sell the results as seed. They also lose the right to save and re-plant their own seed when they purchase illegal seed, The Hutchinson News reported.
"Almost all of the popular wheat varieties in Kansas are PVP-protected," alliance president Daryl Strouts said in a news release Monday.
The alliance mails 50,000 brochures annually to producers in the central Plains to explain the federal law, Strouts said.
Strouts said buying certified seed helps public and private research programs, which can lead to improved wheat varieties at a much faster rate. The royalties also are returned to universities such as Kansas State for further wheat research, Strouts said.
Kansas and most of the southern Plains have planted only about 25 percent certified wheat seed since the 1980s, the alliance said, noting that improvements in wheat varieties have been greatly outpaced by corn and soybeans.
"If the wheat industry is ever going to catch up to the advances made in corn and soybeans, it will have to begin with farmers purchasing more certified seed each year," Strouts said.