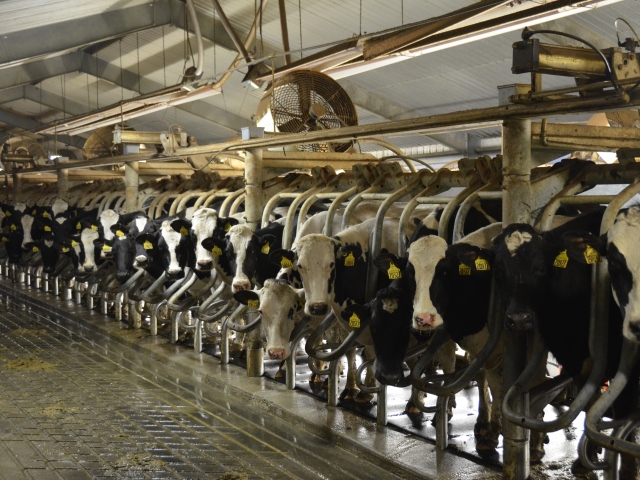 The Sunflower State has seen a dairy explosion. In 1999, there were just 86,000 dairy cows. Now there are 143,000 cows.
The eastern part of Kansas held steady in growth during that time, says Billy Brown, agri-business development coordinator for the Kansas Department of Agriculture (KDA). "Really when you look at the growth for Kansas it has all come from the western side of the state."
Western Kansas offers open spaces that are easy to setup large dairies and communities that support agriculture.
"Part of the growth has been driven by folks from other places wanting to either expand dairies or continue production in a large scale dairy model," says Mike Brouk, extension dairy specialist with Kansas State University. Those producers helped Kansas get to a mark of 118,000 cows by 2009.
In the past six years Kansas has not had a new dairy built by a producer who moved in from out of state. All of the recent herd growth has been built up by producers who were already there which accounts for 25,000 more cows since 2009.
Brouk notes that western Kansas offers an arid climate favorable for dairying because 10 months out of the year moisture isn't a huge issue.
There is a perception that there is a lack of water in western Kansas, but in areas that cover the Ogallala Aquifer a consistent supply of water can be found.
"Do we have water for expanded animal production in western Kansas? The answer would be yes, but we've got to evaluate where." Brouk adds that location distance between other livestock units is an important consideration for all dairies in the High Plains.
"We've been very proactive in trying to keep units apart so there is some distance so you don't have issues of feed supply, water supply and available land for spreading manure," Brouk relates.
Kansas is very rural so driving to a big box store like Target or Sam's Club may take several hours.
One area Kansas lacks is milk processing.
"We're stuck in a chicken and egg situation where we need a big processor to attract producers, but the processor needs more cows," Brown says.
During the past few years the KDA has worked with the Kansas Department of Commerce and other organizations within the state to help attract dairy producers and processors to the state.
"We've really been focused on getting more cows into the state to be able to reap the economic benefits of the dairy industry and what that provides economically to small communities in our rural areas," Brown says.
Kansas has passed a sales tax exemption for the construction or renovation of livestock facilities when that investment is more than $50,000 which should ease of the burden of building in the state.
There is also incentive for milk processors because 70% of the milk produced in Kansas is exported out of the state to be processed.
"We see the opportunity to have more processing in the future as being a great benefit to our industry that will hopefully propel Kansas forward into getting more cows into the state and help us process more milk in the state," Brown says.
A new processing plant is in the works for western Kansas. In November, a report came out that Dairy Farmers of America would be partnering with a Chinese company to build a plant that would supply dry whole milk powder for export to China.
Kansas is an area rich in land and provides the agricultural infrastructure needed to support the facility, says David Jones, chief operating officer of the Southwest Area for DFA.
"This plant will not only provide our members with the security of having a local processing facility that will provide significant freight savings for many years to come, but it offers them the opportunity to have direct investment as well," Jones says. "We are excited about this opportunity and have received significant interest from the local producer community."
As of right now there are no specific details of the size and scope of this plant as they are being determined, but the plant construction is anticipated to be completed by the end of 2016.