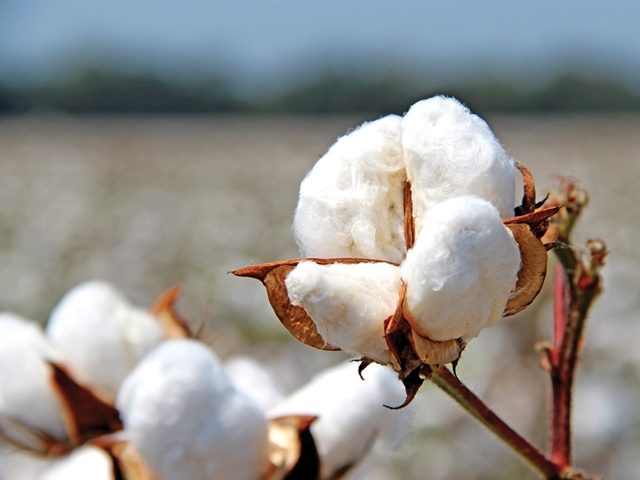 DANVILLE, Kan. (AP) — Living by her late father's convictions, Suzanne Drouhard never gave up on cotton.
Her devotion is evident as she walks through one of the cotton fields that surround her Harper County farmhouse on a crisp December afternoon. The land is dotted with large round bales left behind by the cotton stripper.
"I fell in love with cotton like my dad did," she said, adding with enthusiasm, "Cotton people are a unique breed. They have a passion - you know."
Along the roadways of Harper County, you can't miss the patchwork of white fields. Some have been fashioned into the round modules - ready to be trucked to the local gin. A few still await a cotton stripper.
In a state where cotton is a forgotten notch in the Cotton Belt, acres are spiraling upward. And, if all goes as forecast, Drouhard said, there could be even more fields of fluffy white at this time next year.
But it wasn't that long ago that cotton went into a slump from which, it seemed, it would be difficult to recover. While Drouhard's loyalty never wavered, other farmers bowed out, tired of the damage from spray drift that dinged yields. A period of record commodity prices - including for corn - didn't help grow acres.
Drouhard has never been a market chaser, she said. Cotton, she said, is a good rotation with her farm's conventional commodities like wheat and milo. She struggled through the bad times, which included a multi-year drought and damage to her own cotton crop from herbicide drift.
Then, two years after she came back to the farm, her father, Don, died. She thought there would be more time to learn his lessons of the land.
"There have been struggles," she said.
Drouhard, however, trudged on, and her dedication is paying off. Cotton is a profitable bright spot in a slumping farm economy where corn is below $3.50 a bushel. New traits are taking away the gamble of herbicide damage. This year, she watched the new varieties make a difference in her fields.
Kansas cotton has never been more enticing, she said.
"I've been back 12 years," Drouhard said. "This is the first time in 12 years that I haven't been hit by 2,4-D on my cotton."
Drouhard dedication to growing the industry comes naturally.
Don Drouhard was one of the first to try cotton around the town of Anthony. It was 1999, and Don, in his late 60s at the time, thought he might be foolish for growing cotton in wheat country.
However, he never had a negative thing to say about cotton - seeing the advantage of an alternative to a longstanding culture of the region.
Drouhard picked up the reins, even getting appointed to the National Cotton Board when Kansas became recognized as a cotton state.
One of her top concerns has been the drift issues - which, on any typical year meant losing 10 to 20 percent of her cotton crop. A southwest Kansas producer in 2013 reported losing half of his cotton crop to 2,4-D drift.
Weed resistance to the herbicide glyphosate has pushed farmers toward 2,4-D and dicamba. But unlike cotton counties in Texas, Kansas doesn't have a mandatory cutoff for applying 2,4-D
According to Kansas State University, cotton is one of the crops most susceptible to 2,4-D. Humidity and wind speed can cause it to spread to fields several miles away. Some formations of the chemical can move as a vapor.
"A millionth of a particle affects it" depending on the timing, Drouhard said.
Drouhard said she sees a growing confidence in cotton, thanks to a new arsenal of Phytogen-developed varieties that combat spray drift.
This year, Drouhard was part of field tests on the southern plains for the new Enlist cotton - a game changer for the Kansas industry. The cotton trait is available in PhytoGen varieties of cotton and is tolerant to Enlist Duo and Enlist One - a new formation of 2,4-D made by Dow Agrosciences.
The irrigated cotton field she stood on this day might have hit a field record this year, she said, predicting it at 1,600 to 1,700 pounds an acre. She thinks she hit a dryland record, as well. The cotton even looked healthier - the leaves weren't elongated from being hit by spray drift.
"They were a normal cotton leaf," she said, adding with no damage this year, "How do you put a dollar amount on that?"
Ben Benton, a cotton development specialist with PhytoGen Cottonseed, has been working with Drouhard. He said aren't restrictions - no matter the season - regarding the spraying of herbicide on pastures or crops in Kansas.
The old formations are more volatile, he said. The herbicide would move and damage nearby cotton crops.
It kept a lid on the growth of the industry in Kansas, Benton said.
Researchers at PhytoGen's West Texas breeding program have focused their efforts in recent years to develop cottonseed varieties better for the High Plains area.
Other seed companies have herbicide-resistant varieties on the market, such as dicamba-tolerant cotton.
While commodity markets have helped boost acres in Kansas, as well as in Texas and Oklahoma, the new technology has helped build back farmer's confidence in the crop, Benton said.
"There were some growers who stopped growing cotton years ago," Benton said. "They said, 'hey, I can't accept this risk of losing this crop for drift of herbicide.' Now some of those farmers are back in the cotton growing business again. They have a risk factor they can take completely off the table."
Growing acres
Tack on the new varieties to the crop's profit margin and cotton has had a dramatic reversal of fortune.
After hitting a high of 115,000 acres in 2006, acreage slipped to 16,000 acres by 2015 - a low not seen since the late 1990s when the industry in the state was just getting started.
But this year, Kansas farmers are poised to harvest a record 185,000 bales - a 161 percent jump from last year.
Barbara Kille Ott is one of the newbies. The Dallas woman, who has farmland in Harper County, sat in a cotton meeting in Wellington last year, listening to a friend speak.
?'The only people who are going to make money in farming this year are sitting in this room'," Ott said the friend told the group. "I thought 'well, I want to make some money this year. Maybe I will give it a try.'"
Drouhard learned about the crop from her father, coming back to the farm during the summers to help her parents. It's why she made the difficult decision in 2005 to leave a job she loved as director of a Kansas City alternative school to work alongside Don and Bea and take over the farm.
"Mom and dad were talking about transitioning, and they asked if I was interested," she said. "At that point in my life, that was the hardest decision I had to make - to give that job up and come back. But you know, from as young as I could remember, I was always with my dad."
Drouhard has learned a lot from her family, including her uncle, Gary Feist, who manages the Southern Kansas Cotton Growers gins near Anthony and Winfield.
"Don was never afraid to try something new," Feist said of Drouhard's father.
Don Drouhard thought cotton worked well in his rotation, Feist said. And the ones who kept planting cotton through ups and the downs thought the same.
Feist said his acres are up, and he predicted the facilities could gin almost double the number of bales as they did last year.
Feist, who has his own cotton ground, said he considered on planting any last spring because of the drift damage.
"The 2,4-D cotton has been a lifesaver," he said. "This year we are getting the 2,4-D protection, but we are also getting really high yields and good grades."
Drouhard, Feist said, has grown in her knowledge since returning to the farm, becoming "an ambassador for cotton" - especially as a member of the National Cotton Board.
She said the industry is dedicated to High Plains cotton research. She's learned a lot from peers in bigger cotton-producing states.
"Why did I fall in love with cotton?" said Drouhard, pondering the question from the field as she waited for Benton, who was coming to the farm to take samples.
She recalled driving around the cotton fields with her siblings one day.
"They asked me, why do you keep growing cotton if you keep getting hit" with drift, Drouhard said. "What do you say to that except I love this crop and hope the neighbors and wherever the spray is coming from understands.
"I just like the uniqueness of it and how many different things are made from it. It is a true soil-to-table crop.
"What I like about cotton, too, is it is a complex plant," she said of its growing stages from spring planting to the November harvest. "You never stop learning."
___
Information from: The Hutchinson (Kan.) News, http://www.hutchnews.com
An AP Member Exchange shared by the Hutchinson News.