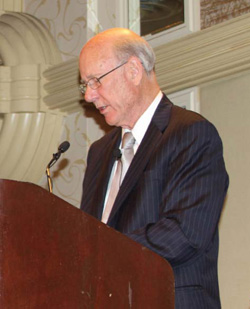 Overregulation stalls progress in farm sector
Sen. Pat Roberts (R.-Kan.) delivered a fiery opening at the Farm Journal Forum, held in early December in Washington, D.C. He touched on overregulation, the future of the farm bill and protecting ag from terrorist threats.

The No. 1 problem with our country, according to Roberts, is the "Katrina wave of regulations." He said the Barack Obama administration is focused on more government. Instead, we need to "rein in overburdensome and duplicative regulations" and let the people of our country "pull themselves up by their bootstraps" as we've always done, Roberts said.

On the farm bill front, the consensus is that crop insurance should be the central focus but it needs to be simplified.


Roberts noted that the two chairs respon-sible for the farm bill "tried extremely hard to do what was right" but that it was difficult to know what that was. If the super committee had reached an agreement and the proposed bill had been included, World Trade Organization complaints would have poured in and there would have been problems with "astronomical" target prices and the revenue assurance program based on planted acres, Roberts said.

Going forward, the farm bill requires a return to normal order and a "clear, open, honest debate," he added. The one issue that everyone can agree on is feeding the world, he said, noting that the world's population is expected to reach 9 billion in just a few decades. Ag research is key to producing the food and fiber to satisfy the population boom.

The failure of the super committee to reduce the deficit and the required across-the-board cuts to come leave a great deal of uncertainty. Roberts said that at a time when the world is like a "tinderbox," the prospect of cutting national defense is worrisome.