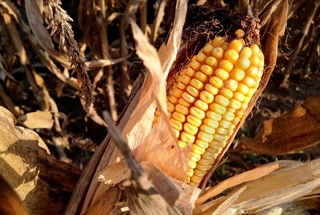 Corn farmers in south central Kentucky say the dry summer didn't affect crops as much as they feared.
Smiths Grove farmer Chad Elkins was expecting spotty crops this season, but he says that wasn't the case in his fields.
"It was better than I expected," he said. "It's not great by no means, but it's better than I expected."
Another farmer, David Hunt, says modern corn genetics make the crop better able to handle dry conditions. But Hunt says the low rainfall meant his yield was down to 125 bushels an acre compared to 200 bushels last year.
"From what the crop went through, I was a little surprised at how good it looked," said Hunt, who has a farm in Rich Pond.
The Daily News in Bowling Green reports that half a million fewer bushels of corn have come to the South Union Elevator in Auburn compared to last year. Chris Timmons, the grain elevator's manager, says he thinks farmers are holding on to their corn because of lower sales prices and lower yields this season.
Last year, many farmers in the area had the best corn harvest they'd seen in years, so even a slight drop in yield would have seemed disappointing, said Jack Estes, a farmer near Smiths Grove.
"We're coming off the best year we ever had, so anything would be a letdown," he said.
Last year, Kentucky farmers planted 1.53 million acres in corn and harvested 1.43 million acres, which averaged about 170 bushels an acre, yielding 243 million bushels.
Though the quantity of corn may be down locally, "quality-wise, it's been looking pretty good" this year, Timmons said.
Farmers in the area were more hopeful about the prospects for soybeans.
When rain finally came in August, it was too late to help the corn, but it did help Elkins' soybeans, which he believes will be ready to harvest next week.
"If it wasn't for the August rain, we would have a very bad crop (of soybeans)," he said.