The cattle market in Kentucky dropped during the month of March for calf prices and fed cattle prices.
By: Kenny Burdine, Livestock Marketing Specialist, University of Kentucky

The stale cattle market didn't improve much in March. In fact, both calf prices and heavy feeder cattle prices in Kentucky decreased from February, which is an unusual seasonal pattern. During the time period from 2007-2012, Kentucky prices for 500 to 600 lb feeder steers have increased on average by $6 per cwt. The same weight range of calves decreased in price by $5 per cwt from February to March of 2013. Compared to 2012, 500 to 600 lb feeder steers in Kentucky auctions were selling for $28 less per cwt in March of 2013.



The value of calves in the spring is driven largely by pasture conditions and fall feeder cattle futures prices. Pasture conditions are crucial because many of those calves are placed in stocker programs through spring and summer. While March 2012 was an unusually warm month that brought significant pasture growth, March 2013 was unusually cold and most pastures simply were not growing. This worked to limit interest in placing stocker cattle last month.

When calves are placed on pasture in the spring, they are done so with an expectation of what they will be worth in the fall as feeders. The best indication of this is fall feeder cattle futures, which have decreased by about $10 per cwt since early February. The combination of poor pasture growth, and decreasing price expectations, really put a damper on calf prices this spring.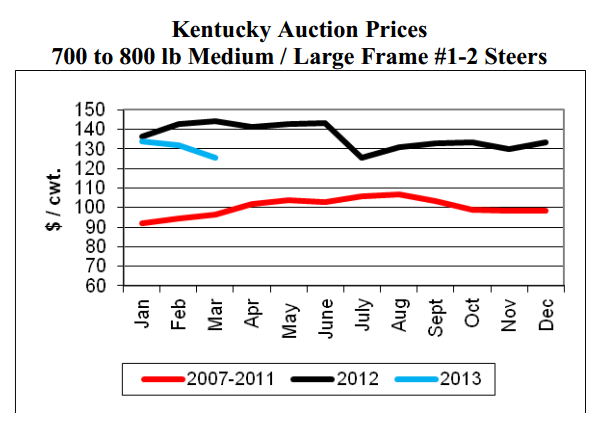 A similar story could be told for heavy feeder cattle (700 to 1,000 lbs) coming out of winter backgrounding programs. The value of these feeder cattle is driven largely by feed costs incurred by feedyards and their expected value as fed cattle in the fall. Much like fall feeder cattle futures, the October CME© live cattle futures price had fallen by about $8 per cwt from early February to the time of this writing. Put simply, beef demand (and boxed beef movement) has not been near as strong as expected and has put downward pressure on the fed cattle market. This pressure has been felt in the feeder cattle market and in the calf markets.

While March was frustrating, the final days of the month brought some positive news for feeder cattle markets. The March 28th Prospective Plantings report confirmed an expectation to plant a very large number of corn acres in 2013 (97.3 million acres) and the Grain Stocks report revealed an unexpected increase in all grain stocks, but especially corn. As we move into spring, warmer temperatures and pasture growth should provide further support on the price side.

As has been the case since fall of last year, the futures market continues to suggest price improvement lies ahead. Fall feeder cattle futures contracts are trading at more than a $10 premium to April. This is largely due to an expectation of improving demand, tightening supplies, and decreasing corn prices as we move towards harvest. Of course there are many factors that will determine whether that price improvement becomes reality. As was discussed last month, the fall feeder cattle futures market may be offering some opportunity for summer grazing programs given the current calf market. While prices can and will move between now and fall, summer graziers should probably consider price risk management as a way to manage downside price risk.