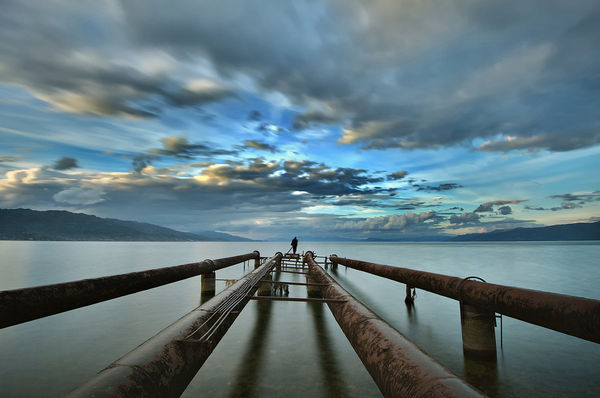 Critics of the Keystone XL pipeline say they're still optimistic President Barack Obama will block TransCanada Corp.'s planned $5.3 billion link between the oil sands in Alberta and refineries along the U.S. Gulf Coast.
Just to be sure, they're organizing a nationwide civil- disobedience campaign to keep up the pressure should the U.S. State Department recommend Obama approve the project.
Rainforest Action Network, Credo Action and the Other 98% have convinced about 76,000 volunteers to sign a "pledge to resistance." In doing so, Keystone opponents are joining anti- nuclear activists and others who have used sit-ins and other forms of non-violent protest over the years to bring publicity to a cause.
"We believe that whether or not this pipeline is built is in President Obama's hands and his alone," Elijah Zarlin, senior campaign manager for advocacy group Credo Action, said. "We will engage in peaceful and dignified sit-ins if necessary to urge him to reject Keystone XL."
The push highlights how the fight over Keystone, now in its sixth year, shows no sign of abating as both sides await the release of a final environmental impact statement from the State Department that will estimate Keystone's impact on greenhouse gas emissions. After that, the agency, which has jurisdiction because Keystone crosses the border, must determine if the pipeline is in the national interest before Obama's final decision.
Obama Agenda
In signing the pledge, activists accept the risk of being arrested in communities along the pipeline's path, at the State Department, or in offices of companies backing the line.
Zarlin said the group, the lobbying unit of Credo Mobile, a San Francisco-based phone and data service provider that supports progressive causes, hopes that commitment underscores the risks to Obama's second term-agenda should he decide wrongly in their eyes on Keystone.
TransCanada said this month that it expects the U.S. to decide on Keystone by the end of March.
"I'm personally signed up to get arrested even though it's been about 30 years since my anti-apartheid days," said Ross Hammond, senior campaigner for Friends of the Earth, an environmental group based in Washington and Berkeley, California.
Delay Signal
Even some pipeline supporters say the network of activists pushing Obama to block Keystone appear to be having an impact.
"I think the president may succumb to that pressure sadly," Charles Ebinger, director of the Energy Security Initiative at the Brookings Institution in Washington, said in an interview. "I hope I'm wrong on that."
Canadian officials today joined congressional supporters including Representative Ed Whitfield, a Kentucky Republican and chairman of a House energy and power subcommittee, at an event at the Canadian embassy in Washington to promote the pipeline to improve U.S. energy security.
Whitfield told attendees at a panel on energy security that he doesn't think Obama will approve the Keystone XL pipeline.
The president has had "ample opportunity" to OK the link already, Whitfield said.
Gary Doer, the Canadian ambassador to the U.S., said Keystone would strengthen the relationship between two allies. It would also reduce U.S. reliance on imports from less friendly countries, such as Venezuela, he said.
'Choose Canada'
"We can choose Venezuela by not approving Keystone, or we can choose Canada," Doer said today.
The program is jointly sponsored by the embassy, TransCanada and the Consumer Energy Alliance, a group of energy users and producers, including Dow Chemical Co. in Midland, Michigan, and Exxon Mobil Corp. in Irving, Texas.
TransCanada spent $340,000 to lobby Washington in the third quarter, a 70 percent increase from the $200,000 it spent in the second quarter, according to documents filed with the Senate.
The Calgary-based company will continue to highlight the "importance of further expanding the U.S./Canada natural resources relationship," said Shawn Howard, a spokesman for TransCanada.
So far, Keystone supporters appear to have an edge with the public. A Pew Research Center poll in September found 65 percent of those surveyed favored the project, including a slight majority of those who identified themselves as Democrats.
Zarlin, a former Obama campaign aide, said his group has trained 400 organizers to lead "local actions" should the State Department review go against them.
March Draft
The pledge was prompted by the draft environmental assessment released in March that found Keystone wouldn't increase greenhouse gases because bitumen, a form of heavy crude, would be mined from the oil sands even if Keystone was blocked.
The Environmental Protection Agency asked for a fuller analysis, and groups like 350.org, Credo and Friends of the Earth say the draft underestimated the importance of Keystone to development of the oil sands.
"If Obama approves the pipeline, I will eat my hat," said Daniel Kessler, a spokesman for 350.0rg, a network of activists linked through social media. "This isn't complicated stuff. An oil pipeline by definition increases emissions."
--Editors: David Ellis, Allan Holmes
To contact the reporter on this story: Jim Snyder in Washington at [email protected]
To contact the editor responsible for this story: Jon Morgan at [email protected]