Ignoring piles of old clothes and scraps of bruised sports equipment, a curious Justin Hoeft picked up an aging fly rod and walked away from a garage sale with a $10 deal in 2010. For an 11-year-old already enamored by the ponds and rivers of central Nebraska, the rod flipped a switch, setting hooks into the ambitions of a precocious young boy. Just six years later, Hoeft's exceptional drive gave rise to his own fishing lure company and a market home on the shelves of Cabela's.
Kicking bass and taking names, JR Lucky Lures is a bootstrap business done right. Flavored by personal experience, boosted by National FFA Organization guidance, and fueled by Hoeft—now a college sophomore—JR Lucky Lures is an entrepreneurial success story from the heartland. Fish on.
Cat Hair Clump
Geared for the outdoors, Hoeft, 19, was raised in the rolling hills of Amherst, Neb., a 15-mile hop northwest of Kearney, and split his childhood between the aisles of a family toy store and the woods or water of Buffalo County. Deer and turkey hunting were priorities, and trapping coons provided a bit of pelt coin, but fishing was Hoeft's top-drawer passion.
"Fishing has no guarantees. You do your best to know what fish want and how deep they are, but the excitement is always there because nobody knows what will happen. Catfish, bass, blue gill—fishing couldn't be more fun."
Spurred by the bargain fly rod, Hoeft began tying primitive flies as an 11-year-old, wrapping thread around hooks jammed into tiny blocks of wood. The will was strong, but the knowledge was weak: "I didn't know how to tie flies right, but I was desperate to find out."
Enter the parents. As a Christmas present in 2013, Hoeft's father, Brett, and mother, Connie, drove their 13-year-old son three hours east to Cabela's in Omaha for an intense fly-tying class. Hoeft walked into the session as the only juvenile in a room filled with gray-haired men. Two hours later, as Brett and Connie waited in the parking lot, Hoeft bounded out of Cabela's, bursting with confidence. "I'd just learned so much from older, experienced guys and they treated me special, and shared everything with me. Right there something started to grow and I was introduced to something unbelievable. I was hooked."
Connie mirrors her son's perspective: "Justin was so excited when he got back in the car, talking about what he'd learned and all these flies he could create. The first class was only the start, and I took him back about five times. He kept learning and getting better and better."
So long to the primitive blocks of wood—and hello to a clump of cat hair. "I made my first real lure from some cat hair I found," Hoeft recalls with a chuckle. "I tied a hook in and it was really ugly, but it caught a fish. I was ready. I started making some really nice flies and things started to happen."
A Lure with a Story
Confidence building, Hoeft wanted to craft a streamer-spinner hybrid lure, and create unique motion in the water. "Lot of guys throw streamers, lots throw spinners, but I was looking for something with the same traits and patterns, but a separate motion, something the fish have never seen. Even an old fish that's learned every lure in the book hasn't seen this one."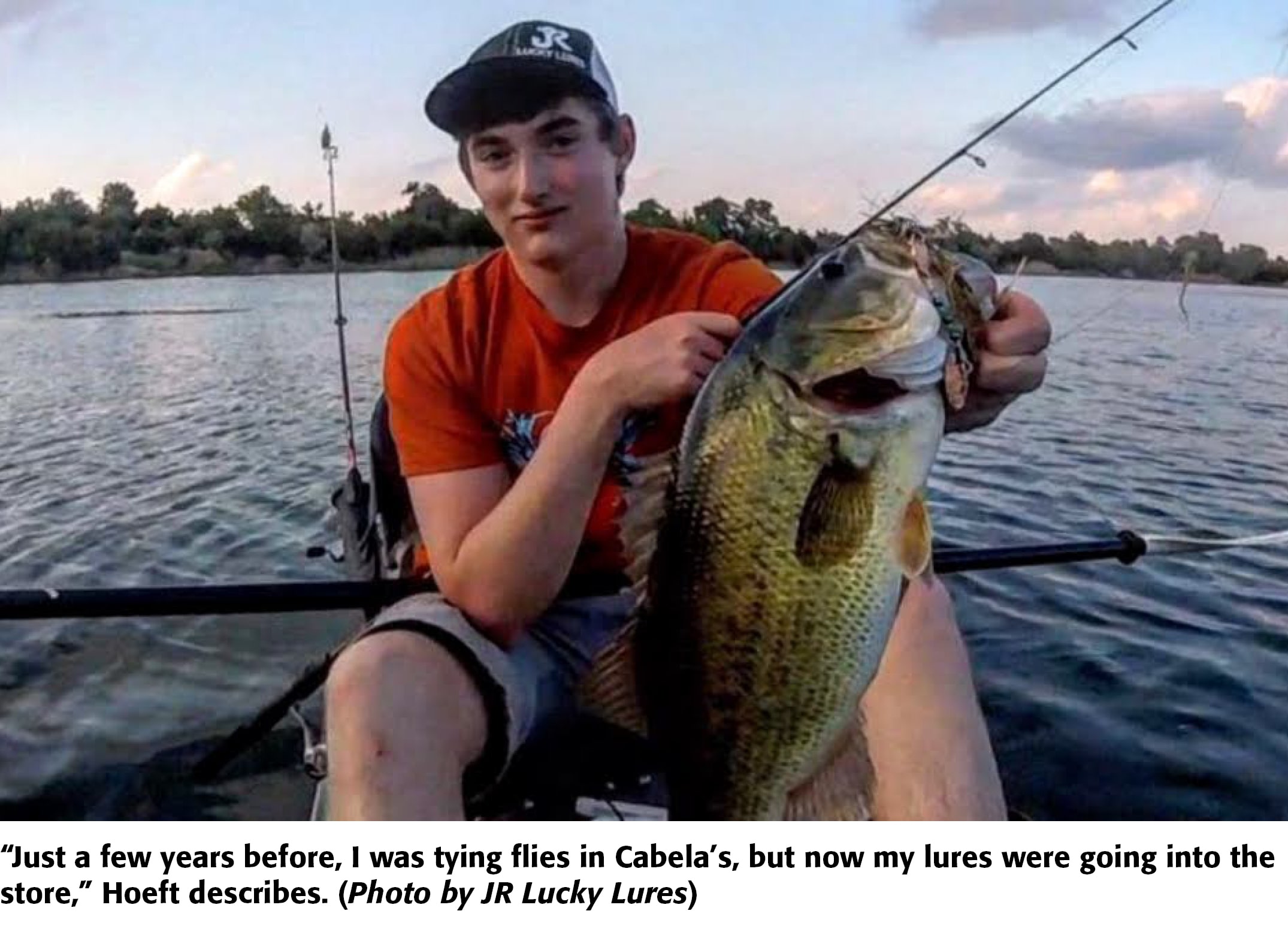 Hoeft's prototype was a cross between a streamer fly and an inline spinner. "It was rough looking, but I knew I could fix the color patterns and make it shine, and I knew it would really draw in the fish."
Prototype in the bag, Hoeft's business opportunities began to snowball. His lures blossomed into a nine-variety selection, tagged with eye- and ear-catching names: Kick'n Bass, Just for the Halibut, Bite Me, and All I Got was this Crappie Lure.
"I made these lures that caught fish over and over, but also had cool names and would also make a great gift for anybody. I made something that worked perfectly, but also appealed to the eye, and it was handmade in Nebraska. This was a lure with a story."
FFA Boost
As a freshman at Amherst High School, Hoeft joined the FFA under the tutelage of agriculture teacher and advisor Katie Hothem. "Justin always went the extra mile to help the chapter. He was a rare person that always wanted to give and not receive. FFA was like his sport and he devoted most of his school time to FFA as a main priority. Even today, he's just genuine in everything he does."
Hothem played a pivotal role in the formation of JR Lucky Lures, according to Hoeft. "I love the outdoors, so FFA was a great fit, plus my dad had done some farming and ranching. My advisor, Katie Hothem, said, 'Let's make lures your SAE project and a business.' I appreciate her so much because without her and my mom and dad, this would never have happened. It would have been a few lures made for myself and that's it."
Serendipity at the door. The Archway Gift Store was looking for Cornhusker-made products and caught wind of Hoeft's lures. Connie, carrying deep retail experience as owner and founder of CR Toys in Kearney, provided Hoeft with packaging and display advice. At 14, Hoeft's streamer-spinners, made on a table in the corner of his bedroom, hit the Archway racks. Snapped up by visitors to the gift store, JR Lucky Lures gained the notice of GROW Nebraska, a state-sponsored organization intent on promoting local business. Out of the gate, JR Lucky Lures was running hard.
Cabela's Calling
Several years later, in December 2017, while Hoeft took notes on a laptop in English class as a senior, an incoming email popped onto his screen. The message, from Cabela's in Omaha, contained an order for JR Lucky Lures. Gun-shy and in disbelief, Hoeft fingered the delete key, almost certain the request was a scam, but held back from erasing the email. After class, harboring a small hope, he dialed Cabela's, spoke with staff, and realized the order was legitimate. "It was real. All my work paid off and I remember flying down the halls. Just a few years before, I was tying flies in Cabela's, but now my lures were going into the store. Four years of making lures and I made it to the shelf in Omaha, and later to Kearney."
Hothem's FFA intuition was spot-on. (In April 2018, Hoeft's JR Lures SAE Proficiency application was second overall in the state of Nebraska in the area of Ag Sales-Entrepreneurship.) "I knew there was potential with the lures, even when Justin was a freshman," she says. "He was filled with passion and had tremendous knowledge about lures. On top of that, he was very smart and mature, and I knew he'd be great with customer relations and sales. It was so fun to watch as he went from small locations up the chain and ended up in Cabela's. Lots of lessons for anyone in FFA or small business."
No Excuses
As Hoeft approaches his second year at the University of Nebraska, he straddles education and business, building on the handmade inventory of JR Lucky Lures. "It's a pretty special feeling when you watch a lure you made being used successfully over and over in the water," he describes.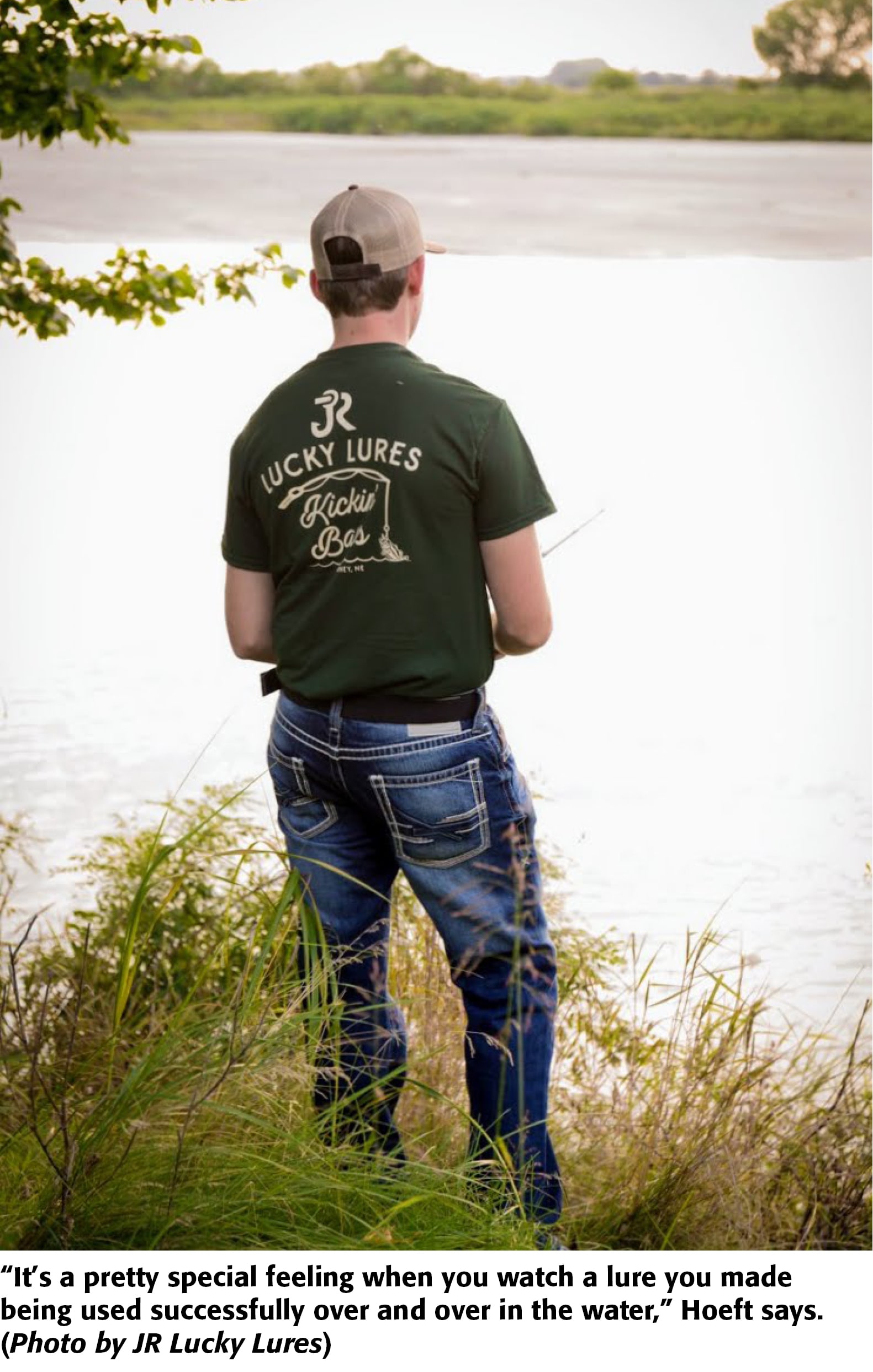 The makeshift lure-building table still sits in the same spot, but the bedroom has morphed into an office, and a shop in the garage has taken on the manufacturing load. "Family, friends, and organizations with so many people have helped me just because I was willing to work hard. Everyone was so understanding and they are all great, great people."
Majoring in mechanical engineering, Hoeft hopes to create a line of aluminum boats in the future. "I've got tweaks that I believe can make boats more durable and hold more weight. I might even use my degree to work on farm equipment, and it's something I'll closely consider."
Although fishing is a major passion for Hoeft, JR Lucky Lures was built with goals and purpose in mind, Hothem emphasizes. "Justin used this as a real road to financial independence. His parents are entrepreneurs and early on, he knew the importance of managing finances. That goes to lures, college and financial investments. He thinks way ahead and that's so rare for someone his age."
"Justin is so money-conscious," Connie echoes, "and knows how to budget. He prides himself on covering expenses and avoiding debt. He's affected so many people for the good, and in turn, people have cared about what's he done and have given him confidence."
What advice does Hoeft have for other young entrepreneurs? "No excuses, just stick it out and ignore the haters because they'll always be there. If you've got enough passion about something, push hard, because there are people out there with the same passion that will help you," he adds. "Never give up."
For more, see:
Breaking Bad: Chasing the Wildest Con Artist in Farming History
Against All Odds: Farmer Survives Epic Ordeal
Killing Hogzilla: Hunting a Monster Wild Pig
Agriculture's Darkest Fraud Hidden Under Dirt and Lies
Blood And Dirt: A Farmer's 30-Year Fight With The Feds
In the Blood: Hunting Deer Antlers with a Legendary Shed Whisperer
Who Killed the Finest Soybean Soil in the World?
Seeds of Discord: Crossing the Great Cover Crop Divide