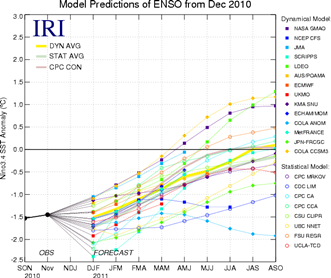 Some of the worst droughts in recent memory coincided with La Nina conditions. With already tight supplies of most major commodities, a strong to moderate La Nina in the Pacific Ocean and record-high grain prices, anxiety level about severely tight supplies are rising by the day. Major concerns may be premature, however, says John Eise, climate services program manager the National Weather Service in Kansas City, Missouri.
Hear the full interview with Eise here.
The Climate Prediction Center released La an update on Wednesday morning that says La Nina should continue well into the spring. Current models show drier conditions should prevail in the southwest and stretching into the western Great Plains. Wetter than-normal springtime conditions are expected in the Ohio River Valley and Great Lakes Region, says Eise. He adds that right now there is no definitive prediction that this will be a repeat of drought conditions seen in 1983 or 1988, which severe drought years.
"I would not be willing to go that far out," he says. "There are other things beside La Nina that impact the weather. As far as temperatures, yes we're leaning a bit warmer than normal extending from the southwest United States through Texas and the Gulf Coast. It should extend north into the Southern Plains."
The CPC is willing to give the prediction that La Nina will continue into the spring months. Whether it will survive through the growing season is a little less clear.
"Some models are showing weakening, but others are showing it fairly strong into the summer months, but other s show it weakening. I would expect we'll see it weaken, but we're not necessarily seeing disappearing in the summer months," says Eise.