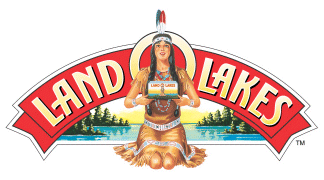 You could call 2014 a very good year for Land O'Lakes (LOL), the national dairy, feed and crop input cooperative headquartered here in Minnesota.
At today's annual meeting, LOL officials reported record annual sales of $15 billion for 2014, with $266 million of that going to the bottom in the form of net earnings. Some $184 million will be sent back to member owners. Return on equity was 18%, slightly better than the 10-year average of 17.3%.
Due to volatile commodity dairy prices, gains weren't quite as good as they could have been. In 2013, LOL had net earnings of $306 million on sales of $14.2 billion and a return on equity of 25.6%.  Some of that difference in performance was due to risk management. LOL experienced some hedging expenses this year as commodity prices soared while it saw hedging gains last year, says Chris Policinski, LOL president. LOL also took a $70 million inventory write-down due to changing cheese, powder and butter prices.
But Policinski notes LOL was able to return 20¢/cwt of milk to its dairy farmer members, even through the fourth quarter of 2014 when milk prices slumped sharply. That was at a time when other dairy co-ops were "taxing" their members up to 50¢/cwt during that same period.
Land O'Lakes is made up of three business areas: Dairy Foods, Purina Animal Nutrition and WinField Crop Protection and Seed. The Dairy Foods Division processes some 13 billion lb. of milk annually, making it the third largest dairy co-op in the country behind Dairy Farmers of America and California Dairies, Inc. The Dairy Foods Division had $5.1 billion in sales in 2014. The Purina Feed Division had sales of $4.7 billion, and WinField had sales of $4.8 billion.
Amazingly, LOL has doubled total sales over the past decade. "But we don't want to be big just to be big," says Policinski. "We have to be bigger to keep up with bigger competitors, suppliers and customers."
Walmart, for example, has annual revenue of $473 billion, or 31X that of LOL. Nestle, one of LOL's key customers, is seven times larger. 
One of LOL's key growth strategies is exports. Currently, export sales account for just 5% of LOL sales.  Policinski sees that growing in the future, as LOL expands its market presence in Canada, Mexico, China and even Africa.
It terms of dairy sales, LOL hopes to be a major supplier to global dairy giants such as Nestle and Danone.  Both need a quality milk and dairy ingredient supplier in their global sales, and LOL is well positioned to be that trusted supplier. LOL also hopes to expand its crop inputs reach into Canada's Prairie Provinces, as they switch from wheat to early season corn and soybean varieties.
In Africa, LOL is now just beginning to plant long-term seeds to provide crop inputs and feed for its fledgling dairy and meat industries.
In the domestic dairy arena, LOL along with California Dairies, Inc. and Dairy Farmers of America have petitioned USDA to create a Federal Milk Marketing Order in California. California has for years had its own state order which regulated prices.
"State orders create an island onto themselves," says Policinski. "As we move to a globalized market, a Federal Order in California creates a more orderly market place. It would create more balance with the rest of the country."
You can read more detail here.