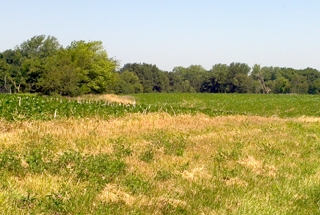 Livestock producers were the primary bidders in this auction November 21 in western Illinois featuring a combination of high-quality cropland and medium-quality cropland with timber. The farm featured a total of 297.5 acres and was located 2 miles north of the Rio corner in Knox County. That are features flat cropland which breaks away quickly into rolling cropland and wooded properties. Cow herds and large hog operations are common in the area. The property was offered in four tracts.
Tract 1 was a rectangular 80 acres with a 2-acre farmstead notched out of it. The ground was level to gently rolling and all tillable. It was well drained and tiled with a soil Productivity Index (PI) of 140.8. That is at the high end of quality per the rating system of Illinois Bulletin 811, which has a maximum of 147. This tract sold for $13,000 an acre.
Tract 2 was an adjacent square 40 acres which was also gently rolling with 39 tillable acres. It carried a soil PI of 136.6. It also brought $13,000 an acre.
Tract 3 was a somewhat irregular-shaped 94 acres with 69 tillable acres. It was level to rolling with grass waterways and mature timber. It carried a PI rating of 122.2. It sold for $5,000 an acre.
Tract 4 was a very irregular-shaped 81 acres with 56 tillable acres. The balance was grass waterways and mature timber and had a PI rating of 199.9. It also sold for $5,000 an acre.
Tract 5: was the 2-acre farmstead with one-story home, machine shed and grain bins with 18,000 bu capacity. It brought $80,000 total.
The buyer was a livestock farmer who bordered two sides of the property. Bidders may have become less aggressive as the auction moved to Tracts 3 and 4 and it became more evident the neighbor was actively pursuing the entire property.
Handling the auction was Van Adkisson Auction Service, LLC, Roseville, 309-426-2000..
For more information about LandOwner, please click here or call 800-772-0023.