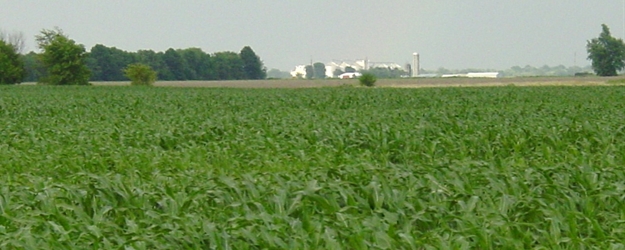 A recent auction in north central Iowa shows again that high-quality cropland still commands top dollar.
The farm in question featured 389.5 acres and was located on the north side of Osage in Mitchell Co., Iowa. The north central area of the state was hard hit by rains a year ago, resulting in a substantial number of acres claiming prevent plant payments rather than planting a crop. Land auctions in the area had been somewhat soft as a result. But this farm featured an improved cattle feeding operation including silos and buildings. But most importantly, it featured some of the highest-rated soils in the state.
The auction on June 10 drew a crowd of 400 with plenty of registered bidders The cropland was offered in 7 tracts with the cattle-feeding operation and farmhouse offered as two separate tracts. Four bidders wound up purchasing the tracts.
The highest bid of $19,700 an acre was paid for a tract of 82 acres featuring 75 tillable acres and a CSR2 of 97.5. Iowa uses a rating system for its soils called Corn Suitability Rating with the highest rating being 100. The system has been in place since the mid-1970s and is referred to a CSR with anything above 75 to 80, depending on location, generally considered high-quality cropland. The rating system was recently updated due to improved technology and the new system is called CSR2. The new system is comparable but not exactly the same. But the end result, 100 being the highest, remains the same and generally anything above 75 to 80, depending on location, still considered high-quality. This 82-acre piece carried a CSR2 of 97.5!
Three additional tracts brought $19,000 an acre or more.
1. A 60-acre piece with 58 acres tillable and a CSR2 of 97.4 brought $19,200 an acre.
2. A 51-acre piece with 50 acres tillable and a CSR2 of 99 brought $19,200 an acre.
3. An 82-acre piece, all tillable, with a CSR2 of 90.6 brought $19,100 an acre.
One other tract of 45 acres brought $18,100 an acre. It had 41.5 tillable acres and had a CSR2 of 91.4.
A 47-acre tract with 42 tillable acres and CSR2 of 94.8 brought $15,600 and a 13.5-acre tract nearly surrounded by existing businesses in the city of Osage sold for $13,900 an acre.
Sullivan Auctioneers, LLC of Hamilton, Ill., 217-847-2160, handled the auction.
For more information about LandOwner, please click here or call 800-772-0023.
See what farmland values are in your area. Plus, get information on cash rent rates on AgWeb's Farmland Value Guide.