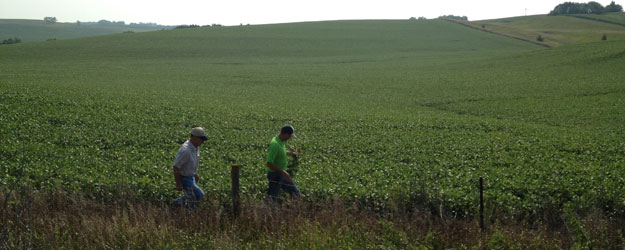 Southeast Nebraska saw nearly 1,700 acres of farmland pass under the gavel April 30 and the take up for that large supply appears positive. That area had seen a "no sale" auction just a few weeks earlier, but this "absolute" auction met seller expectations.
The land offered, 1,688 acres located west of Unadilla and southeast and southwest of Palmyra in Otoe County, was mostly all dryland cropland. It featured total tillable acres of 1,564. The ground was good quality for the area with a Soil Rating for Plant Growth (SRPG) generally in the 58 to 68 area. It was offered in 11 tracts.
One track of 160 acres sold for just under $4,000 an acre -- $3,925. It was mostly all tillable but it's SRPG was 30.1. Four tracts brought $4,575 to $4,800. Three tracts brought $5,050 to $5,150. And three tracts bought $6,025 to $6,350. These all see relatively positive prices considering the amount of land hitting the market that day.
The sellers were heirs of an Atlanta-based investor. Eric Mueller with Farmers National Company, Omaha, Neb., managed the auction.
For more information about LandOwner, please click here or call 800-772-0023.
See what farmland values are in your area. Plus, get information on cash rent rates on AgWeb's Farmland Value Guide.