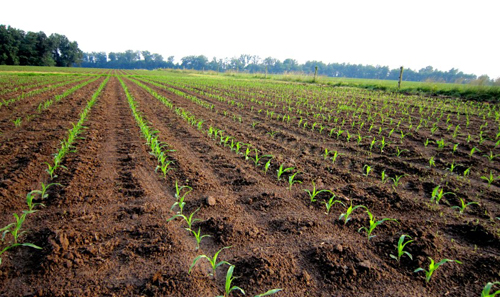 Strong land demand is still evident in east-central and southeast Iowa. The auction of 280 high-quality acres near Olds in Henry Co., is proof of that demand. The recent survey of ag bankers by the Federal Reserve Bank of Chicago found land values rose 2% during the first quarter of 2014 compared to the fourth quarter of 2013 and 4% compared to a year earler.
The auction occurred April 3, shortly after a 95-cent rally in July futures from a low in early January near $4.20 to $5.15 and better in early April.

The offering featured four tracts ranging in size from 41 acres to 83 acres located 1 mile west of Olds. While areas of Henry County can roll heavily and provide excellent pasture for cattle, this section of the northern portion of the county lies level and features high-quality soils. The average CSR for Henry County is 60.4. For the four tracts, the CSR ranges from a low of 78.3 to a high of 85.9. The overall average CSR on the 280 acres is 83.0. The full 280 acres offered 268 tillable acres.
The auction, conducted by Sullivan Auctioneers, LLC, Hamilton, Ill., was conducted "Buyer's Choice," giving the highest bidder the option of taking any, all or any combo thereof of the four tracts offered. Very little property of this type had come to the market preceeding the sale. Bidding went quickly and ended at $12,500 an acre, which is a new county record. The buyer, an area landowner, took all four tracts.
For more information about LandOwner, please click here or call 800-772-0023.
See what farmland values are in your area. Plus, get information on cash rent rates on AgWeb's Farmland Value Guide.