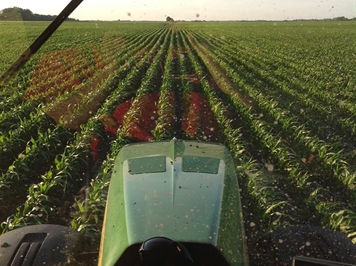 Not often do you see Union County, South Dakota farmland come up for auction because land is so tightly held in that area. But that was the case Friday, March 28. The property located northwest of Elk Point featured 155 acres and had 149 tillable acres. The farm has a corn base of 61.5 acres with an FSA direct yield of 93 bu. per acre and a 87.7-acre soybean base with a direct yield of 33 bu. per acre. The PI (productivity index) on the farm was 69.2.
The farm also included a bin site with grain bins and a dryer used only in the 2013 season. The farm's non-tillable acres consists of the bin site, waterways, driveway and road. The topography is level to gently rolling. The new purchaser was awarded immediate full possession to either farm or to lease out for 2014.
The farm sold for $8,000 an acre.
Chuck Sutton, Auctioneer & Land Broker, Sioux Falls, handled the auction.
For more information about LandOwner, please click here or call 800-772-0023.
See what farmland values are in your area. Plus, get information on cash rent rates on AgWeb's Farmland Value Guide.