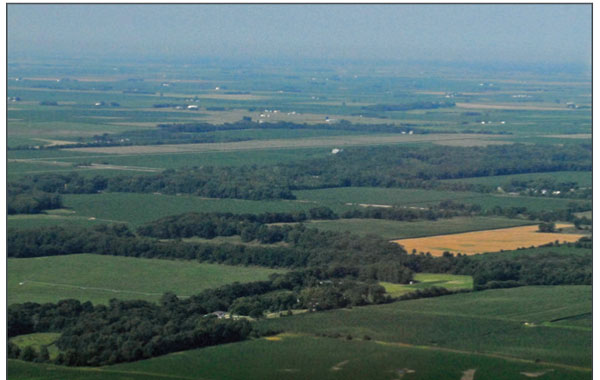 Land values and rents are heading lower in corn, soybean and wheat country, though no major crash appears to be in store. But many bankers surveyed for two Federal Reserve district reports say they expect further land-value erosion this year with the expected decline in crop farm income. 

Values for farmland rated "good" declined 1% from Jan. 1 to April 1 in the Federal Reserve Bank of Chicago district. Year-over-year, values rose barely 1%. State numbers differed. Compared to the fourth quarter, farmland values declined 4% in Illinois and Indiana, and they fell 3% in Michigan. Values increased 1% in Iowa and Wisconsin. Year-over-year, Iowa values dropped 2%, Michigan values dropped 1%, Illinois saw no change, Wisconsin values grew 2% and Indiana values experienced a 7% increase. 

Data from the Federal Reserve Bank of Kansas City show a sharp divide in land values between states dependent on crops versus livestock, reversing a trend in recent years. Year-over-year data show ranchland values rose 8.6%, almost double the increase for non-irrigated farmland.

One surprise: Land rents are already headed lower, the Chicago Fed survey shows, despite a lag many had predicted. Cash rents district-wide posted a 2% decline for 2014 relative to 2013, the first average decrease since 1999 and the largest decrease since 1987.

Illinois registered the largest rent decrease at 4%; Iowa rents fell 3%; and Indiana, Michigan and Wisconsin rents saw a 1% decline. Adjusting for inflation, cash rental rates decreased about 4%–only the second negative result in the past decade using this measure.